Mount Holyoke College
Class of 1963
Nomadland Movie Discussion
🎞 🎞 🍿 🎞 🎞 🍿 🎞 🎞 🍿 🎞 🎞 🍿 🎞 🎞 🍿 🎞 🎞 &nbsp>nbsp;
Dear Classmates,
Our discussion of Chloé Zhao's film
Nomadland
on
Saturday evening, April 17th, 8:00pm Eastern Daylight Time
will be on Zoom. Karel Koenig will send the Zoom link to those who have indicated an interest. If you wish to be added to the list, contact
Mary Ann Weiss
with your preferred email address as soon as possible.
The movie
Nomadland
is written (screenplay) and directed by Chloé Zhao, MHC class of '05, and nominated for six Academy Awards, including Best Picture. Chloé could rise to accept an Oscar four times for Best Director; Best Adapted Screenplay; Best Film Editing and Best Picture.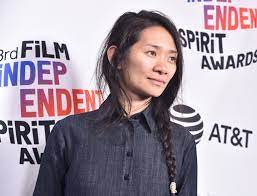 Please see the film before April 17th at 8 PM EST-- it can be found on Hulu on your TV in the comfort of your own home or in a few theaters. Feel free to include a guest in your Zoom rectangle on April 17th.
Below you will find background information along with some questions to consider in thinking about the film prepared by Jenni Macdonald Dewolf and Judy Reeve.
Since our common MHC experience, we have led divergent lives in various areas of the country and the world. This Zoom time together will be an opportunity for informal reconnection as well as a rich discussion!
Until soon,
Alice Andrus, Jenni Dewolf, Karel Koenig, Judy Reeve, Steph Smith, Mary Ann Weiss
🎞 🎞
🍿
🎞 🎞
🍿
🎞 🎞
🍿
🎞 🎞
🍿
🎞 🎞
🍿
🎞 🎞
Anticipating our First Class of 1963 Film Evening, we offer some ideas to think about when or after viewing our film the 6-time nominated Oscar film, Nomadland.
~~~~~~~~~~~~~~~~~~~~~~~~~~~~~~~~~~~~~~~~~~~~~
Journalist Jessica Bruder, author of the book on which the film is based, Nomadland: Surviving America in the Twenty-First Century (2017), spent months living in a camper-van named Van Halen, documenting itinerant Americans who gave up traditional housing in the aftermath of the 2008's Great Recession.
In 2018, actress & filmmaker Frances McDormand commissioned Chloé Zhao (Mount Holyoke Class of 2005) to write screenplay, Nomadland (2020, based on Bruder's book. Zhao also directed and edited the film. Zhao and her partner, Joshua James Richards, the film's cinematographer, spent months developing the arc of the story with McDormand while traveling in their own van named AkIra, traveling with and getting acquainted with the folks who live as American nomads. Several play essential parts in the film.
Is this a documentary or a narrative fiction film? Or, as it has been called, a "docu-fiction" or a "fictional history"How does the addition of story make a difference? Does it make the meaning more universal and timeless? If so, how?
While viewing, notice how both the cinematography and soundtrack underpin the entire film. Zhao focuses on landscapes, seascapes, the sky and clouds, time of day and weather. In what ways do the music and natural settings affect the film?
What does the film tell us about our American free-market, wealth-based economy? Is Nomadland primarily a political statement or something else?
What spiritual questions are raised about life issues such as loss, end of life, death and grief that don't have easy explanations?
"We're all in existential crisis," Richards said. "We need to give ourselves time to mourn. To grieve for the life we've had that's not coming back. When Fern walks out of the only life she's ever known, it's that complete paradigm shift we've all had [in this past year]."
Joshua James Richards
https://www.newyorker.com/magazine/2021/03/01/framing-the-wide-open-spaces-of-nomadland
https://www.newyorker.com/magazine/2020/12/07/economic-ruthlessness-on-the-open-road-in-nomadland
https://www.gq.com/story/nomadland-bob-wells-interview
And an article in the Spring 2020 Quarterly about Chloe:
https://magazine.mtholyoke.edu/mthaq/spring_2020/MobilePagedReplica.action?pm=2&folio=14#pg16
🎞 🎞 🍿 🎞 🎞 🍿 🎞 🎞 🍿 🎞 🎞 🍿 🎞 🎞 🍿 🎞 🎞