Mount Holyoke College
Class of 1963
Giving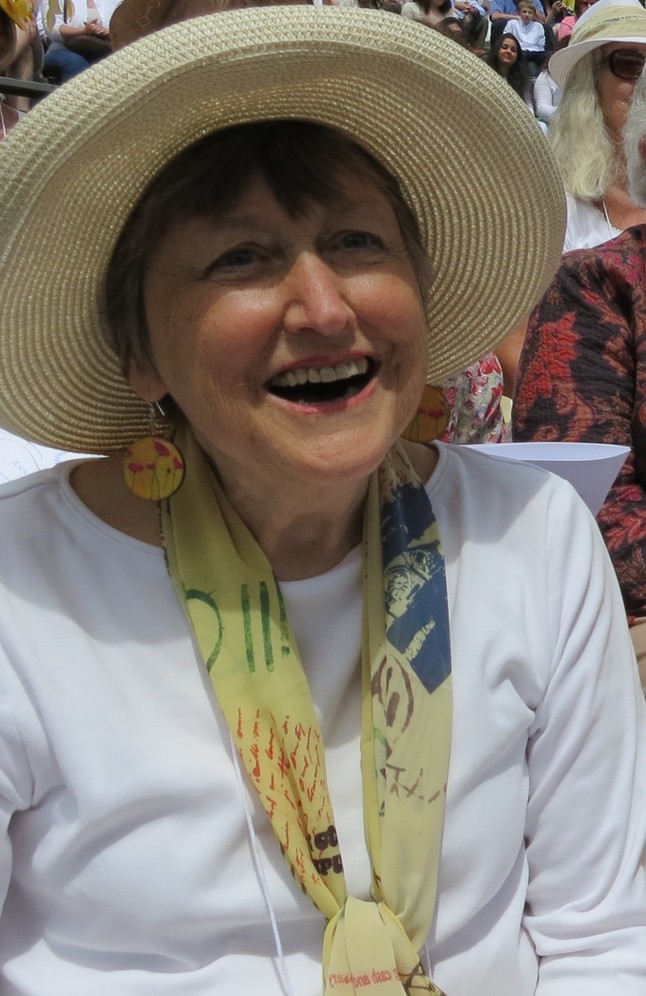 Our Reunion Gift Update from Ann Kotting Sadowsky
November 2015
Hi, Class of '63!
Here is your annual letter reminding you of how important it is to give to The Mount Holyoke Fund. This is how we protect our investment in education—by keeping our college the best it can be!
Last year, we raised our participation rate from the paltry 41% we had the year after our reunion to a more respectable 54% and gave close to $150,000. This year our goal is a 65% participation rate and over $160,000. I know we can do it.
First of all, if you read this prior to November 15, please give immediately. From November 8 through November 15 there is a $1 for $1 match, so if you give $250, $500 will be put in the fund and credited to our class! Pledges do not count. The money must be in hand and postmarked between November 8 and 15 or donated on-line during that time.
Here's how to give:
***Send a check to the college in the envelope you received with the recent letter from the Advancement Office.
***Go to the college's website, www.mtholyoke.edu, and click on "give", the green present at the top of the page.
***Call the college on 413-538-2000 and ask for the Advancement Office
Again, we are able to give directly from an IRA to the college, getting a deduction, but skipping the "tax" part. Ask the reunion gift committee member who contacts you or call the Advancement Office at the college to see how to do that.
Also, if you are making or re-making a will, consider that if you bequeath $20,000 to Mount Holyoke you will be giving $1,000 per year in perpetuity.
Thanks for being such a great class! You make my job much easier.
Ann
* * * * * * * *
GIVING THROUGH BEQUESTS: THE MARY LYON SOCIETY
21 Nov 2016
Lexington, Virginia
Dear Classmates,
As very young women, we had the wisdom to choose Mount Holyoke for our further education. We brought our dreams, and the College helped us achieve them or gave us the foundation to go in new, unexpected directions. Now we can look back with gratitude for the lessons we learned and the friendships we made at Mount Holyoke. And we have an opportunity to give back.
I write on behalf of the Mary Lyon Society. Its membership includes all alumnae who have established life income plans (annuities or trusts) with Mount Holyoke or have informed the College that their estate plans include a bequest to Mount Holyoke. The MLS now has more than 1400 members — 45 of them from our class (see list below).
First, please realize that, as women of "a certain age," whether we have considerable wealth or very little, each of us has an obligation to create a formal will. While it is easy (and tempting) to put off this daunting chore, it is really an act of love as well as a courtesy to those who will survive us.
If you are considering a charitable life income gift or bequest to Mount Holyoke, the options are described in plain English on the website at giftplanning.mtholyoke.edu. College annuities come in several forms and are a very good deal for people our age in these days of low interest rates and market volatility. Or you can make the College a beneficiary for all or part of a will, trust, retirement plan, or life insurance policy. When you document your plan with the the Office of Advancement, it will be your choice whether or not to provide information on the size of your gift, and you can choose to remain anonymous (as at least one classmate has done).
Those who are interested in class affairs will be glad to know that the College will acknowledge life income gifts and bequests in the Comprehensive Totals for our future reunions.
If you would like to bounce ideas off someone in confidence, feel free to contact me at 540-463-7938 or sanunneley@gmail.com. For detailed planning, the College's staff can discuss various annuities and model your financial outcomes, including projected income and the possible tax benefits of planned giving.
Wishing you all the best,
Sally Nunneley, 1963 Chair for the Mary Lyon Society
Members of the Mary Lyon Society from the Class of 1963 as of November, 2016
Anonymous
Suzanne E. Adams
Marianne A. Adey
Karen Kayser Benson
Ellen Boer
Diane Breithaupt
Beverley Brown Bryant
Elizabeth C. Burton
Kay S Clark
Joan Hadley Craw
Cynthia Jane Curry
Joan Cox Danzansky
Dorothy B. Davis
Jennifer M. DeWolf
Sally S. Donner
Mary B. Doyle
Sandra Perrott Drew
Edith Lawlis Dulles
Ruth B. Gramlich
Deborah J. Hall
Ellen J. Harris
Barbara Robin Hauter
Genya Currens Hopkins
Carolyn G. Hornfeld
Marjorie S. Humphrey
M. Elaine Jacoby
Sandra J. Kenyon
Susan F. Kroeger
Cynthia Curtis Longstaff
Katherine L. Miller
K. Diane Myslik
Sarah A. Nunneley
Doreen Mulreany O'Brien
Eleanor G. Rogan
Ann K. Sadowsky
Susan Schindler
Stephanie J. Smith
Betty Jean Spitze
Nancy M. Thompson
Tracy Truman
Ann Vidolovits-Moore
Mary Ann Weiss
Nancy K. Welker
Constance Wolfe
* * * * * * * *
Our Reunion Gift Update from Ann Kotting Sadowsky
In our reunion year of 2013, our class did a fantastic job--85% participating and over $1.3 million raised for The Mount Holyoke Fund. Last year, we did better than other classes following the 50th, but our participation rate was poor, to say the least. Only 41% of us gave to the college last year. That was partially because your new Reunion Gift Committee had not yet got its act together. This year you should hear from the committee member assigned to you. Be sure to ask any questions you have about the college or participation. She will find an answer.
We are still working to define a special gift from our class to the college. We want to make sure that the college receives the funds from us that it needs to keep its high educational standards, but we also want something to remember the great Class of '63. If you have ideas on this, please contact me (ann.sadowsky@gmail.com) or our class president, Alice Godfrey Andrus (andrus.alice@gmail.com).
Many of us have been concerned that the rating of the college in U.S. News and World Report's famous college issue has been getting lower. There are many factors that go into that rating, but one of them is the percent of alumnae that give back to the college. So, your participation is important. Please take a moment and give a gift.
Also, we are not getting younger and I imagine that each of us is involved in will-making. A bequest to the college makes a wonderful difference. If you give $1,000 to the college each year, continue that tradition by leaving a bequest of $20,000 to Mount Holyoke. At 5% interest, it will give your $1,000 in perpetuity.
Here's how to give:
***Send a check to the college in the envelope you received with my recent letter.
***Go to the college's website, www.mtholyoke.edu, and click on "give" at the top of the page
***Call the college on 413-538-2000 and ask for the Advancement Office
Thanks so much for your support of Mount Holyoke. You make my job so much easier.
Ann Kotting Sadowsky
119 Birch Way
Woodstock, VT 05091
802-457-3370
ann.sadowsky@gmail.com