Mount Holyoke College
Class of 1963
Alumnae Awards
At our 55th Reunion, our classmate Eleanor Rogan was given an Achievement Award for her lifetime of contributions to the University of Nebraska's Medical Center, where she was the founding chair of the Department of Environmental, Agricultural and Occupational Health.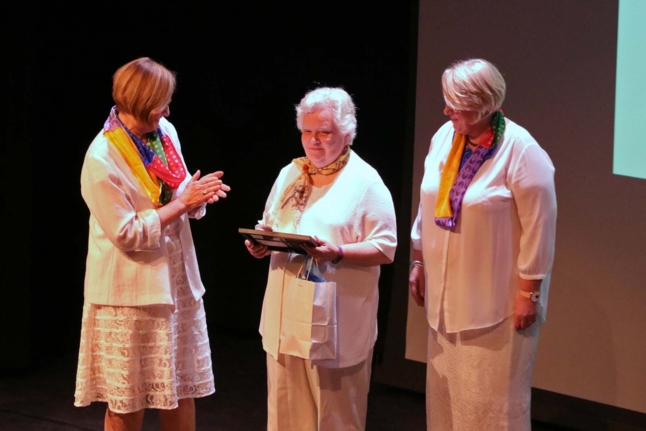 Alice Godfrey Andrus (below, with Alumnae Association president, Nancy Perez) received the Loyalty Award for her many years of volunteer effort on behalf of our class, including class president for the past five years.
We were also honored to receive as a class the Pegasus Award for having raised the most total dollars for immediate use through the Mt. Holyoke Fund in this fiscal year, and also the Lyon Award for the highest total giving to all funds for this past five year cycle. Alice, along with head class agent Ann Kotting Sadowsky deserve recognition for mobilizing these gifts.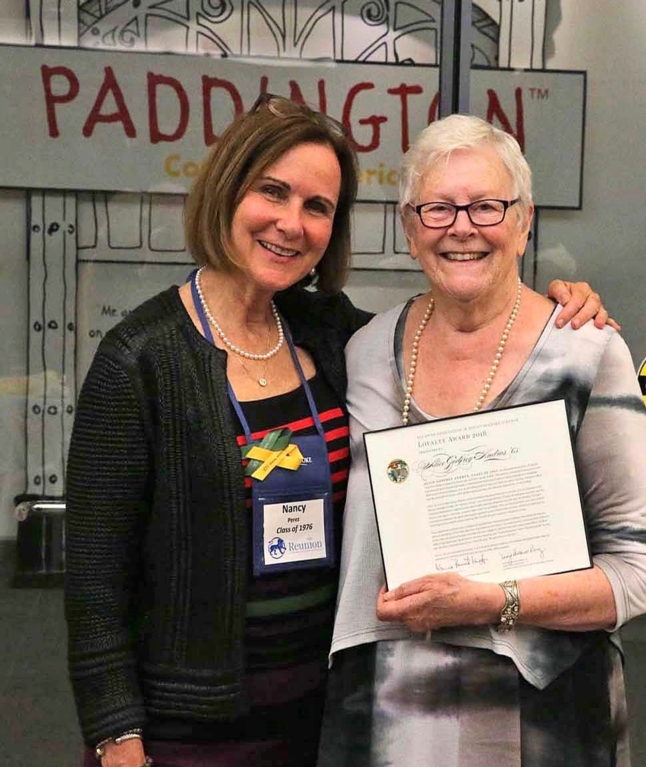 The following awards were presented to members of the Class of 1963 at our 50th reunion:
ALUMNAE MEDAL OF HONOR
Awarded to an alumna at her twentieth reunion or beyond for long-term eminent service and significant leadership in promoting the effectiveness of multiple areas of the Association and/or College.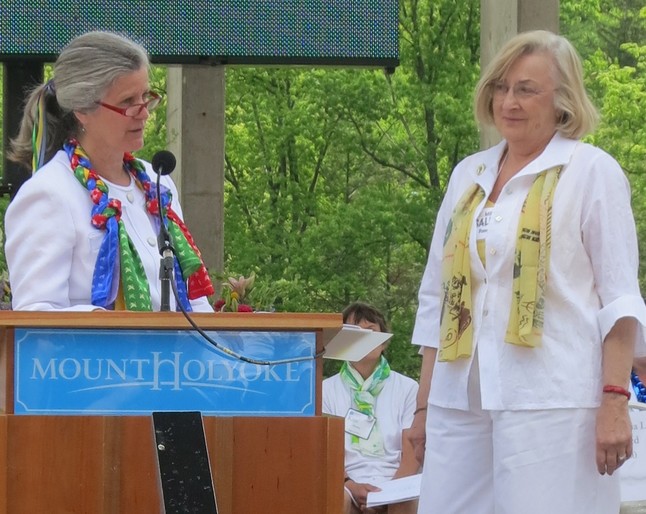 SALLY SEARS DONNER '63
Sally Sears Donner is a dedicated and loyal volunteer and a persuasive leader who has effectively marshaled her class's resources as a class officer and as a fundraiser. She has led her class as president, vice president, and chair of a reunion committee. Fund raising on behalf of her class has been her special focus for years. She has served as a class agent, Cornerstone Program representative, and reunion gift caller. She also led her class's fundraising efforts as the head class agent, reunion gift chair, and reunion lead gift chair for several reunions.
ALUMNAE ACHIEVEMENT AWARD
Awarded to an alumna for outstanding achievements and services to society that exemplify the ideals of a liberal arts education through salaried or volunteer fields of endeavor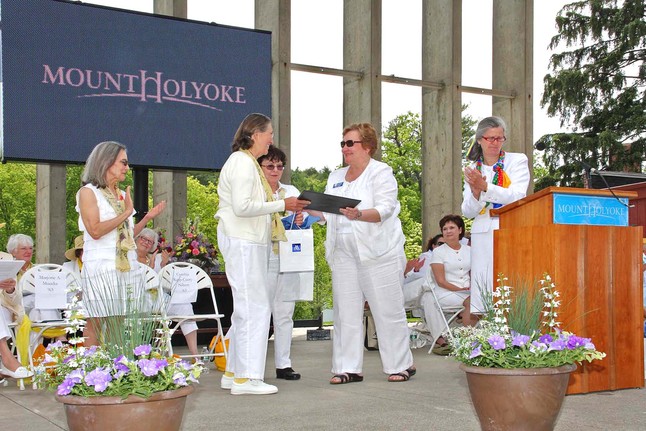 CYNTHIA RAPP CURRY-NILSON '63
Cynthia Rapp Curry-Nilson is a nationally recognized leader in pediatric genetics, both as a clinician and as an academic with many publications and other professional contributions to her credit. Trained at Yale as a pediatrician, she introduced genetic and prenatal diagnosis services in the Fresno, California, area, and continues as the medical director of Genetic Medicine Central California. At the same time, she is the director of medical genetics and prenatal detection at Valley Children's Hospital in Fresno and a tenured professor at the University of California at San Francisco.
MURIEL T. DAVISSON-FAHEY '63
Muriel T. Davisson-Fahey became fascinated with genetics as an undergraduate, and the long and distinguished career that followed changed the face of genetics research. Curiosity about how abnormalities in chromosomes affect development led her to develop a path-breaking way to model Down syndrome using mice. Her mouse model was the first that could be used to investigate learning and memory in Down syndrome, and the National Down Syndrome Society named her "researcher of the year" in 2002.
MARJORIE A. MUECKE '63
Marjorie A. Muecke has built an impressive, and still active, career as a nurse, researcher, anthropologist, educator, and public health advocate. She began as a nurse in Manhattan's Lower East Side and in a Colombian pediatric unit, where she realized the importance of culture in implementing effective health care programs. Her projects have included serving as principal investigator for a decades-long study of families in urban Thailand; as program officer in reproductive health and sexuality at the Ford Foundation; and as assistant dean for global health affairs at the University of Pennsylvania School of Nursing.
THE ELIZABETH T. KENNAN AWARD
Awarded to an alumna for outstanding achievement in and contributions to the field of education, honoring the service of former president Elizabeth Topham Kennan '60 to the College and to higher education in general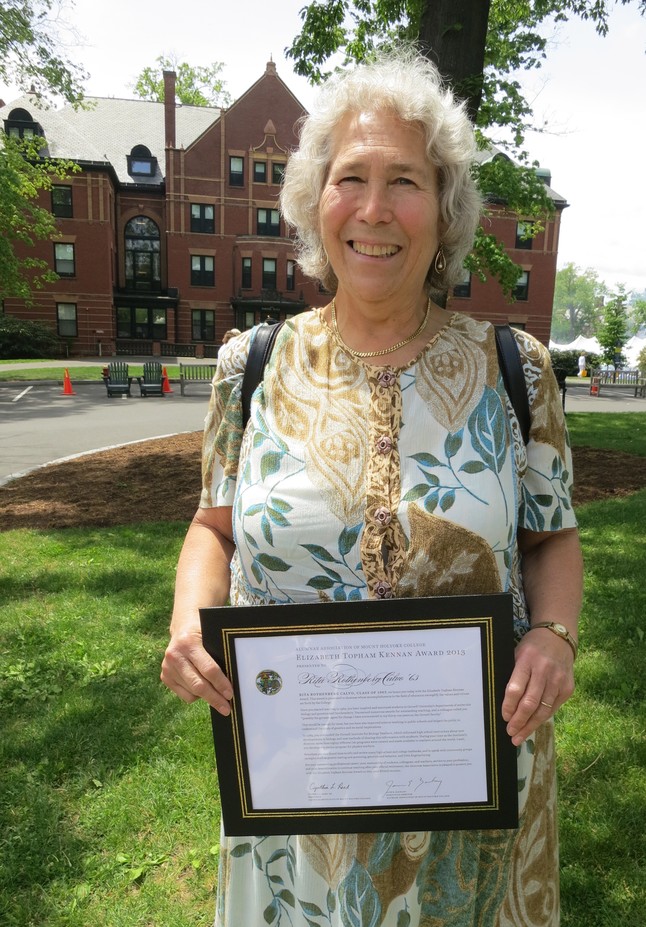 RITA ROTHENBERG CALVO '63
Since Rita Rothenberg Calvo started teaching in 1969, she has inspired and mentored students in Cornell University's departments of molecular biology and genetics and biochemistry. In 1989, she cofounded the Cornell Institute for Biology Teachers, which informs high school instructors about new developments in biology and new methods of sharing this information with students. During her time as the Institute's director, more than eighty different lab programs were created and made available to teachers around the world.
THE LOYALTY AWARD
Awarded to an alumna who has demonstrated consistent effort and active involvement in one area of service over an extended period of time. Volunteer effort may be on behalf of a class, club, affinity group, the Association, or the College.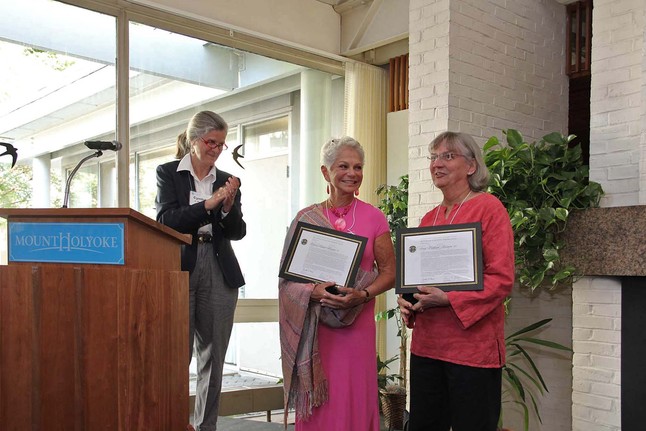 KAREN KAYSER BENSON '63
TRACY PHILBRICK TRUMAN '63
Prior winners of the Alumnae Medal of Honor Include:
Mary Kamerling Allyn
Mary Baisler Doyle
Patricia Pahl Jaquith
Sarah A. Nunneley
Ann Kotting Sadowsky
___________________________________________________________________________________________
In addition, the Class of 1963 received a number of awards:
THE PRESIDENT'S CUP
Awarded to the reunion class with the highest total number of attendees
THE REUNION CUP
Awarded to the reunion class with the highest percentage of attendees
THE SPHINX AWARD
Awarded to the reunion class with the highest total participation in the Mount Holyoke Fund
THE PEGASUS AWARD
Awarded to the reunion class with the highest increase in participation from non-reunion to reunion year in the Mount Holyoke Fund
THE LION AWARD
Awarded to the reunion class that raises the most total dollars for any purpose during the reunion fiscal year
THE GRIFFIN AWARD
Awarded to the reunion class with the highest percentage increase in total dollars for any purpose from non-reunion to reunion year
THE MOUNT HOLYOKE FUND RECORD
Awarded to the reunion class that sets a new record for total dollars raised for the Mount Holyoke Fund
THE LEGACY AWARD
Awarded to the reunion class with the highest total giving (including pledges) to all funds for the previous four years and current reunion