Mount Holyoke College
Class of 1963
Class President's Letter
Letters from Elaine Cox Jacoby
Class President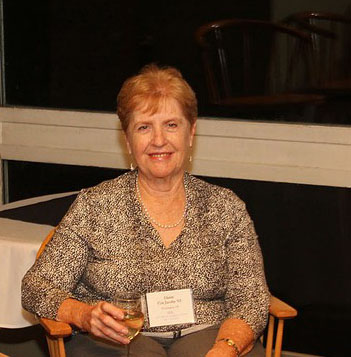 January 5, 2023
Dear Classmates,
Not only are we entering a new year, but also, for us, a new decade. On Memorial Day week-end, we will mark 60 years since we graduated from our beloved Mount Holyoke. For many of us, it will be the highlight of the year, if not the decade. For me, it will be the end of my five-year term as class president, and I will happily turn over my gavel to one of you. Right now, the Reunion Planning Committee is hard at work to make it a red-letter day for all of us.
In many other ways, the new year holds promise. Covid is still around, of course, but it is much less threatening now than it was. Our democracy has proved to be strong. Mount Holyoke is stronger than ever! And so are we! We have lost classmates, friends, relatives, spouses and partners, whom we mourn and miss, but we have also grown closer to each other, our families and friends. Most of us have retired (not all!) but are using our energy, ideas and empathy to do all sorts of important work across the spectrum of non-profit organizations (including MHC!), academia and government, or to improve the quality of our own lives and communities in clubs, book groups and other activities. Caregiving for one or more family members is also a major part of most of our lives. We are meeting all these challenges, including physical limitations. We are still the Uncommon Women of Mount Holyoke!
I hope that many of you will be able to join us at our 60th Reunion, beginning Friday, May 26th. Keep your eyes out for a new letter from our Reunion Chair, Sally Donner, with all the latest on our plans and follow classmates' plans on our website, where all the members of the Reunion Planning Committee are listed. Whether you can come or not, please do submit an entry for our class booklet, which everyone will receive.
As always, I wish each of you a happy, healthy and productive year!
Elaine Cox Jacoby, Class President
++++++++++++++++++++++++++++++++++++
September 25, 2022
Dear classmates,
Tonight marks the beginning of the Jewish High Holy Days, starting with Rosh Hashana and concluding with Yom Kippur. Rosh Hashana is a joyous holiday, celebrating the birthday of the world. This year may be bittersweet for many of us, as we remember family members, friends, classmates and colleagues whom we lost in the last year or more. As most of us enter our 81st year, those losses occur more frequently. I hope that we can both mourn them but also remember them with gratitude for the love and friendship we shared with them. So from bittersweet to sweet, I wish you all a happy new year: Le Shana Tovah!
With very best regards to all, Elaine
January 10, 2022
Dear classmates,
I want to wish you all a very good new year. 2021 was a difficult year for most of us, not just because of the pandemic and the ups and downs that continue to go with it, but because several of our classmates passed away, as did the spouses/partners of others. Having lost my own dear husband of almost 58 years in April, my heart goes out to all who have lost dear ones,
But last year did bring happiness and hope, as children married or remarried, grandchildren graduated from college or were themselves married, and babies were born. The college brought students back to campus and they embraced it joyously. I hope all of you saw the video that our president, Sonya Stephens, sent all alumnae with her New Year's greetings. Seeing the students on campus, in classrooms, absorbed in their activities is so exciting. For our class, our website kept us connected, as many participated in discussions of books and other topics or just sent greetings.. A group of class members initiated film discussions via Zoom in which many participated. And October brought our long-awaited mni-reunion in Washington DC, where those who were able to make it had a wonderful time, as did those who joined us via Zoom for a terrific talk by Nancy Welker about her lengthy career at NASA.
Now we welcome 2022 and realize that next year we will have a 60th reunion! I turned 80 on December 31, an age I never dreamed of reaching until recently. But I'm in very good company: almost all of you! And we are a fantastic group of women. We continue to contribute meaningfully to our families and friends, our professions, and to the organizations and institutions we support - including Mount Holyoke. It's been an honor and a privilege to serve as your class president for the past three and a half years, and I look forward to the next year and a half in that role. Thank you for all you do for MHC, our class and each other. I'll see you on the website and at film discussions. I hope that many of you will send me suggestions for the 60th reunion and that you will, if able, come to the campus for that milestone event.
With love and best wishes for a happy, healthy, productive new year,
Elaine
January 3, 2021
Dear Classmates:

After what was, at best, a difficult year for all of us, we welcome 2021 with hope in our hearts. The promise of a vaccine that will protect us from Covid 19 is central to that hope. We are grateful to the many dedicated and brilliant scientists and doctors who have achieved this amazing feat in such a short time. But we will also rely on the talents and dedication of those charged with getting the vaccine not only to all of us, but to all of the people of our country and the world.

We also will continue to rely on each other, as well as friends and family, for love, support, outreach and good cheer. I particularly want to thank our classmates whose work brings us our website and all of you who have used it to share their thoughts, news, activities and pictures with us. Please continue to go to it and post messages and pictures.

Thanks to all of you who continue to support Mount Holyoke with your gifts and your love. We have such an outstanding faculty and administration, who have devoted more energy, enthusiasm, great thinking and planning than we can completely fathom to the huge job of keeping the college running, the students learning, and us alumnae engaged. We truly are part of a community that is worth making every effort to preserve and enhance. Let's each do what we as individuals can to ensure that Mount Holyoke forever shall be!

Happy New Year, with love,

Elaine
September 19, 2020
Dear classmates:
On this birthday of the world, I have been reminded of the concept in Judaism of tikkun olam - repairing the world - and it resonated for me with the mission of our beloved Mount Holyoke. We support the college because we know that its work is aimed at developing young women to be repairers of the world - which so greatly needs them in these difficult times. So I wish you all, whether you celebrate the Jewish High Holy Days or not, a very happy, healthy and successful new year, one in which our class and the college thrive.
With very best wishes,
Elaine
July 2, 2020
Dear Classmates:
Our Mini-Reunion Planning Committee has made significant progress on plans for a Class of 1963 Mini Reunion in the fall of 2021. We have confirmed the week of October 18 22, 2021 at our headquarters, the Cosmos Club in Washington, DC.
So please start planning to join your classmates in Washington, D. C. to renew friendships, make new friends, visit new sites and old favorites. We will get things started with lunch at the Cosmos Club on October 18, followed by four days of activities including a Welcome Reception and Dinner at the home of Ruth "Bunny" Brown Gramlich, a Potomac River Cruise to Mount Vernon for a tour of this historic property, an art museum tour led by classmate Rosamond "Roddy" Mack Pratt, and a gala dinner with Mount Holyoke trustees, DC alumnae and students. There will be plenty of free time to visit points of individual interest either on your own or with other attendees.
Thanks to our classmate Ellen Strauss Boer, our mini-reunion headquarters will be the elegant Cosmos Club. Founded in 1878, it is a private social club for men and women distinguished in science, literature and the arts. Among its members have been three Presidents, two Vice Presidents, a dozen Supreme Court justices, 36 Nobel Prize winners, 61 Pulitzer Prize winners and 55 recipients of the Presidential Medal of Freedom. Its many amenities include overnight accommodations at reasonable rates (reduced for us through Ellen's membership). Check out the website at https://www.cosmosclub.org/
Our stalwart website team – Mary Ann Searles Weiss, Stephanie Smith and Sally Nunneley – will be creating a separate page on the website for news of the mini-reunion plans as they develop. An important item to look for will be a program schedule, which is in the process of development. In the meantime, we will be posting a list of members of the Planning Committee, including the DC Host Committee crew, as well as a list of all our classmates who have expressed interest in attending. Names will be added as we hear from more of you, but right now, we have more than 40 people who want to attend.
For questions or to add your name to the list expressing interest in attending, please contact Elaine Jacoby, Class President elainejacoby16@gmail.com , or Sally Donner, Chairman of the DC Host Committee sdonner736@gmail.com"
With very best regards and hopes for a good, safe summer for all of you,
Elaine.
May 26, 2020
Dear classmates,
While we have all been confined by the coronavirus, your class officers have nonetheless been hard at work planning for the future when we can get out into the world again. Specifically, a planning committee has been meeting via Zoom since April to plan a mini-reunion for the fall of 2021. Starting out with a group of class officers, we followed up on our meeting at the Volunteer Conference on campus last September and decided to pursue the idea of having a mini-reunion in Washington, DC – primarily because it's relatively easy for classmates from anywhere in the country to get to and there are always many wonderful places to visit. We added six classmates from Washington, DC to create the planning committee. Now, we're at the point where we need to get some responses from you to see how many would be interested in coming.
Here's what you need to know:
Time: the week of October 18, 2021, probably beginning on Monday and ending on Thursday.
Place: our headquarters will be the Cosmos Club, located at 2121 Massachusetts Ave NW
Goal: to provide an opportunity for education, enrichment and connecting with classmates
To accomplish our goal we're planning a program that includes many options for places to visit, a welcome lunch at the Cosmos Club, dinner with a speaker and students from the MHC DC program, dinner at the home of Ruth (Bunny) Brown Gramlich and plenty of time just to schmooze with old friends.
In order to put a hold on specific rooms for the events at the Cosmos Club, we need to have an idea of how many of you are interested in coming, so please respond as soon as you can to me at elainejacoby16@gmail.com and to Sally Donner at sdonner736@gmail.com.
Remember, at this point, there's no commitment – just an expression of interest in coming if possible. And it's in Fall 2021, a year and a half away!
Looking forward to hearing from many of you. Meantime, stay safe and well.
Best, Elaine
January 3, 2020
Dear classmates:
As we begin a new year and a new decade, I want to wish each of you happiness, good health and peace. There will be personal challenges for all of us, I'm sure, as there will be for the college we love, Mount Holyoke. But with the support of each other, as well as other friends and family, we'll meet the personal challenges; and with the support of all of us and many other alumnae, students, faculty and friends, so will Mount Holyoke.
We mourn the loss of several classmates who passed away in 2019: Mary Allison (Powers), Judy Austin (Armbrecht), Cassie Lord (Miller), Linda Tanenbaum (Weissbluth), and Dana Worden (Crocker). (For more about each of them, see the In Memoriam page on the website.) Each in her own way made the world a better place, and we will miss them.
In September, the annual Volunteer Conference on campus gave several of our class officers the opportunity to return to the college. For some of us, that included a daylong meeting of the Beyond the 50th Committee, founded by our own Sally Donner, which is contributing important ideas to the Advancement Office. We learned a lot, as always, and had a wonderful time with each other and many other attendees. In our own class officers' meeting, we planned some changes to the class website (which have since been made under the leadership of Mary Ann Weiss Searles and Sally Nunnely) and we discussed last year's success in fundraising under Alice Andrus's accomplished leadership and heard about her plans for this year's campaign. We also began the planning process for a major mini-reunion, considering two primary options: a mini-reunion on campus, as we did in 2016; or a gathering in Washington, DC, which is easier for many of us to travel to and where we can enjoy many activities, possibly including spending time with students who are participating in Mount Holyoke's new Semester in DC. A planning committee will be meeting in March to move ahead, but in the meantime, think of Fall, 2021 as a time for a major mini. If you have comments for the planning process, please let me know by emailing me at elainejacoby16@gmail.com.
I think you will all be pleased to hear that representatives of the Alumnae Association have been reaching out to our local or regional MHC Clubs. I had the opportunity to attend two: one in Philadelphia, where AA President Maria Mossaides reported all of the latest news and plans to a large gathering and led a lively discussion of alumnae concerns; and another in Princeton, where AA Executive Director Nancy Perez met with a smaller but no less enthusiastic group of area alumnae. These were great opportunities to hear not only from the representatives of the AA, but also from alumnae of all ages and backgrounds about their thoughts and concerns over the state of the college and its future. Keep tuned to the AA website at https://alumnae.mtholyoke.edu/events-programs/awards/ to learn when and where such a visit may be taking place in your area.
Meantime, I continue to enjoy reading your posts and seeing your pictures on the website. Keep them coming! Happy New Year!
Best, Elaine
Seotenber 29, 2019
Dear beloved classmates:
It is the holiest tme of the year for our Jewish classmates and Jews the world over. At this troubled time, when Jews, Muslims, African-Americans, Latinx, Asian Americans, LGBTQ people and so many others are being targeted because of their religious identity, their race, ethnicity or gender identty, let us turn to a community where hatred and vilification is not welcome: our extended Mount Holyoke community. I am so proud of the college for standing firmly for inclusiveness. When you return to campus, you see the beautiful results among the students, faculty and administration. I'm proud to be a part of this community and to be your class president.
So I want to wish all of you L'Shana Tovah. May we all have a sweet new year, as we celebrate the birthday of the world together and seek to preserve it for future generations. L'Chaim!
With best wishes for a happy, healthy new year.
Elaine
January 29, 2019
Dear classmates,
Today is a very special day for the MHC community, as Sonya Stephens is inaugurated as President of the college. For those of you who have not had the opportunity to meet Sonya, you will not be surprised to hear that she is a very smart, articulate woman; what you may not expect is that she is also a charming, candid and approachable person whose years of experience in higher education give her confidence but not a hint of arrogance.
As most of you know, Sonya was Dean of the Faculty before becoming Acting President three years ago. I had the good fortune to meet her early in her tenure as Acting President, and I will confess that I had some doubts about her becoming President - mainly because she is not a Mount Holyoke alumna and might not get how fiercely dedicated most alumnae and students alike are, not only to our traditions and to maintaining and expanding MHC's status among colleges, but also to remaining a women's college. I met Sonya several times over the next three years and was more favorably impressed each time. But the culmination came at the Class of 1963's 55th reunion this year, when a standing-room only turnout of our class members and significant others crowded into Mead's living room to hear her respond to a wide range of questions. I came away knowing that not only does she get Mount Holyoke, its students and alumnae, but she, too, fiercely dedicated to maintaining MHC as a women's college.
Sonya is the President we need now, an advocate for women's education in the 21st Century who understands the needs of an increasingly diverse student body and the love alumnae feel for the college. She gets how much we want to stay connected to each other and the college, and she also understands that current students want to be connected to us, just as we, when we were students, wanted to know alumnae. She said that students want us as mentors, as people whose life experiences as professionals, wives and mothers, volunteers and just as women can give them insight into the past, the present and their own futures.
My role is not to ask you for money - that's Alice Andrus's job now! - but I do want to share the fact that I am making a donation to the Alumnae Fund today in honor of the inauguration of Sonya Stephens, and I hope you will do the same if you have not already done so.
With very best wishes and great hope for the future,
Elaine

January 2, 2019
Dear Classmates,
First and foremost, I want to wish all of you a very happy, healthy, meaningful new year. One important part of making 2019 all of those things is, for me - and I hope for all of you - staying connected with Mount Holyoke and the Class of 1963.
It is an honor to serve as your class president but also a challenge to follow in the footsteps of Alice Godfrey Andrus, who did so much to bring us together during the last five years. Like Alice, I want to help build connections among us and with the college. So I want to continue Alice's initiative with mini-reunions, having very much enjoyed serving as regional chair for mini-reunions of NJ, PA, and DE alumnae for the last five years. Those of us who have participated in mini-reunions have not only reconnected with classmates who were friends but have gotten to know others they barely knew in college. Another kind of connection for some of us has been through developing relationships with members of our "granddaughter" class, the Class of 2013, and I would encourage more of us to do that.
But I also want to try some new ideas for connecting our classmates with the college, specifically with current students. Then Acting President and now President of MHC Sonya Stephens spoke movingly at our 55th class reunion about how much many current students want to be connected with alumnae, to learn about us as people whose life experiences as professionals, wives and mothers, volunteers and just as women can give them insight into the past, the present and their own futures. We can build those connections through e-mails, as well as through any opportunities that may arise to meet the students. So I am talking with Nancy Perez, our new Alumnae Association Executive Director, and others at the college about starting a mentoring program, and I would love to hear from any of you who are interested in participating. You can write to me at my personal email at elainejacoby16@gmail.com or by responding here.
Five of us attended the Fall Volunteer conference at MHC, and I am happy to report that all of the vibes about developments at the college were positive, from the results of fundraising last year to the success of the Lynk program to the increase in student applications to the creation of what seems to be a very successful new style of student living centered on the Commons, the new dining facilities in Blanchard and to the reuse of space in Blanchard itself. I particularly enjoyed talking with students I ran into at the Commons, all of whom were very enthusiastic about the new gathering place. One development that I had not anticipated is, as reported by Jon Western, Dean of the Faculty, the repurposing of space formerly devoted to kitchens and dining rooms in the dorms. Construction is happening in Prospect, where 8000 square feet will be used to expand the Maker space, which is being utilized on an interdisciplinary basis for students to create "things" like the rover drone Jon's class made to test how such technology might be used in search and rescue operations.
Before the end of the conference, our core group of 1963 officers met and responded to this question "Over the next five years, what do you want to see our class do to maintain and build on our connections to each other and the college;" the consensus was as follows:
1. Continue to hold mini-reunions, both regionally and for all class members at two "destination" locations over the next four years, one of them to be on campus, probably in 2021.
2. Continue to utilize our wonderful class website to convey news about individual classmates, group activities, learning experiences, etc.
3. Explore a potential pilot mentoring project by both reaching out to classmates to determine their level of interest and by working with the Alumnae Association and college administrators to determine the level of student interest, with the objective, initially, of establishing a joint student-alumnae committee.
4. Support our fundraising efforts, led by Alice Andrus, Sally Nunnelly, Cindy Curry and Libby Short, including by exploring convening a meeting with Ann Vittoria, director of planned giving programs, to educate all of us about those opportunities, especially in light of the changes in tax laws
In the next month or so, you will be receiving, by snail mail, my official class letter, but in the meantime, I hope you will think about and respond with your thoughts about mini-reunions and mentoring, as well as any other ideas that you have to build our connections.
With very best wishes and great hope for the future,
Elaine
September 11, 2018
Dear Classmates:
Thanks to Alice Andrus for her message to those of us who celebrate the Jewish High Holy Days.
To all of you, whether you are Jewish or not, I want to add my greetings and best wishes for a very happy, healthy new year. Rosh Hashana, the birthday of the world in Judaism (also called the Day of Remembrance) provides us with a wonderful gift: an opportunity to meditate, reflect and assess, not only the past, but also our own present lives and our future role in making the world a better place. In these troubled times, it is a gift from whose spirit I hope you will all benefit.
Peace to all.
Elaine