Mount Holyoke College
Class of 1963
Welcome to our Mount Holyoke Class of 1963 website. If you are a classmate visiting for the first time, you should find your name on the Classmate Profile list. To join the site and be able to see other classmates' profiles, click on your name and follow directions. Enjoy!
ANNOUNCEMENTS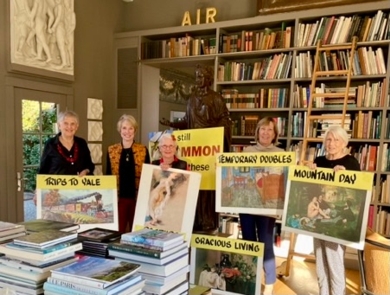 Our scribes (plus Diane Rapp) after lunch at Susie Kroeger's in Bedford, NY. They discussed our classbook that will be posted on this website and exchanged parade signs. It's like the Olympic torch being moved from Nancy Selinka White's basement to Diane's, and eventually to South Hadley where we will carry them in our 60th reunion parade, May 27th. Participants left to right: Diane Rapp, Suzy Eberson, Susie Kroeger, Doris Mortenson and Nancy Selinka White.
Yeah, our 60th Reunion is coming soon!
May 26-28, 2023
Please put this date on your calendar and plan to return to South Hadley and gather with classmates. Here is a list of classmates who are already hard at work planning to make this the best 60th ever:
Class of 1963 60th Reunion Committee:
Class President - Elaine Cox Jacoby
Class Treasurer - Stephanie Smith
Communications/Web- Mary Ann Searles Weiss/Stephanie Smith/Sally Nunneley
Communications Consultant - Beverley Brown Bryant
Reunion Chair - Sally Donner
Reunion Co-Chair- Mary Ann Searles Weiss
Reunion Booklet Chair - Nancy Selinka
Costume Chairs - Diane Demont Rapp, Susie Fickel Kroeger
Hospitality Chair - Karel Mortenson Koenig
Hospitality Committee - Doris Sisley, Jenni DeWolf, Judy Widman, Mary Baisler Doyle, Marjorie Mueke
Program Chair - Gretchen Luft Harris
Reunion Scribe - Suzy Eberson Adams
Sign Chairs - Diane Demont Rapp/Susie Fickel Kroeger
Social Chair - Ruth Brown Gramlich
Memorial Chair - Eleanor Groeniger Rogan
Nominating Committee - Libby Meehan Short, Chair; Sally Nunneley, Ann Kotting Sadowsky
Reunion Gift Committee Co-Chairs- Alice Godfrey Andrus , Jane Bragg, Lillian Kemp
All these leaders would love help, so please volunteer if you would like to be more actively involved in this fun event by contacting the person who is leading your area of interest.
60th Reunion Planning Underway
2023 is coming soon and with it our 60th Reunion. If you would like to join a planning committee, please contact one of those already on board by clicking on a name listed above. We hope you will be at reunion-- you can read more about it by going to the 60th reunion page listed on the left side of this page.
Learning about Wills and Bequests
On Jan 27th and Feb 10th, 2022, a total of more than a dozen classmates participated in interesting discussions with Anne Vittoria, Mount Holyoke's Director of Gift Planning. Videos of the two sessions can be found here: January 27 and February 10. You may have to turn up the volume.
If, after watching one or both videos, you have questions or want to discuss your situation confidentially, Anne or Dana would be happy to talk with you at 800-642-4483 or you can email them as shown below.
Anne Vittoria FP'05 Director of Gift Planning avittori@mtholyoke.edu
Dana Gillette Gift Planning Officer dgillett@mtholyoke.edu
MHC video you might enjoy....
*** Please check out our class President's latest message to us under Class Business/President's letters.
From your website administrators:
We hope you enjoy using this tool to keep in touch with classmates and class activities, including upcoming mini-reunions. If you have postings, requests, complaints, comments, please let us know. Mary Ann, Stephanie, and Sally. In the meantime, please add to your profiles-- pictures are especially wonderful.
Most pictures throughout the website are from Ken Briers (Sally Donner's husband), Colby Andrus (Alice's husband), Mary Raine and Mary Ann Weiss. We would welcome more from others.