Mount Holyoke College
Class of 1963
Welcome to our Mount Holyoke Class of 1963 website. If you are a classmate visiting for the first time, you should find your name on the Classmate Profile list. To join the site and be able to see other classmates' profiles, click on your name and follow directions. Enjoy!
ANNOUNCEMENTS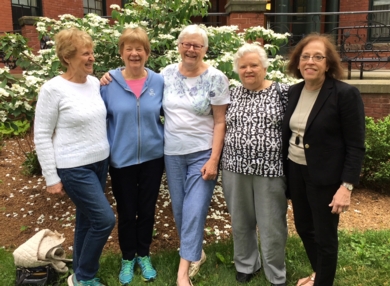 From our 55th-- will you be among those at our 60th ? More info below about our upcoming reunion May 26-28. And if you send me, Mary Ann, the names of those in the picture, I will post them!
Nominating Committee needs names!
If you would consider serving as a Class Officer or know a good candidate, please contact one of the committee members listed below.
The offices to be filled at our 60th reunion are President, Vice-President, Treasurer, and Head Class Agent. Note that we may consider incumbents who wish to serve again, and that it is customary for Nom Com to produce a list for ratification (rather than a competitive ballot) for the Reunion Class Meeting. We want to hear from you!
Committee members are
Libby Short (elizshort@aol.com)
Sally Nunneley (sanunneley@gmail.com)
Ann Sadowsky (ann.sadowsky@gmail.com)
Yeah, we have a date for our 60th Reunion!
May 26-28, 2023
Please put this date on your calendar and plan to return to South Hadley and gather with classmates. More details to come...
60th Reunion Planning Underway
2023 is coming soon and with it our 60th Reunion. We're starting off with a bang, as Sally Donner has agreed to serve as our Reunion Chair and Mary Ann Weiss as Co-Chair. Karel Koenig is gathering together a Hospitality Committee. Our Reunion Gift Chair is Alice Andrus, who will be ably assisted by Jane Bragg. Bunny Gramlich is planning our dinners. Gretchen Harris is thinking about the program. Nancy White and friends are planning for a way to share our experiences, memories and thoughts with an online/website booklet. Last but certainly not least, our Treasurer, Stephanie Smith, will join this core group, along with our Class President, Elaine Jacoby.

We will be meeting later in June and will then name our full planning committee. If you would like to volunteer to be part of the committee, please email Mary Ann at weissma@nku.edu; Sally Donner at sdonner736@gmail.com; or Elaine Jacoby at elainejacoby16@gmail.com
If you would like to be part of the Nominating Committee for our next group of class officers, who will serve from the 60th to the 65th reunion, email Elaine.
Learning about Wills and Bequests
On Jan 27th and Feb 10th, 2022, a total of more than a dozen classmates participated in interesting discussions with Anne Vittoria, Mount Holyoke's Director of Gift Planning. Videos of the two sessions can be found here: January 27 and February 10. You may have to turn up the volume.
If, after watching one or both videos, you have questions or want to discuss your situation confidentially, Anne or Dana would be happy to talk with you at 800-642-4483 or you can email them as shown below.
Anne Vittoria FP'05 Director of Gift Planning avittori@mtholyoke.edu
Dana Gillette Gift Planning Officer dgillett@mtholyoke.edu
MHC video you might enjoy....
*** Please check out our class President's latest message to us under Class Business/President's letters.
From your website administrators:
We hope you enjoy using this tool to keep in touch with classmates and class activities, including upcoming mini-reunions. If you have postings, requests, complaints, comments, please let us know. Mary Ann, Stephanie, and Sally. In the meantime, please add to your profiles-- pictures are especially wonderful.
Most pictures throughout the website are from Ken Briers (Sally Donner's husband), Colby Andrus (Alice's husband), Mary Raine and Mary Ann Weiss. We would welcome more from others.