Mount Holyoke College
Class of 1963
Welcome to our Mount Holyoke Class of 1963 website. If you are a classmate visiting for the first time, you should find your name on the Classmate Profile list. To join the site and be able to see other classmates' profiles, click on your name and follow directions. Enjoy!
ANNOUNCEMENTS
Registration forms for our 60th Reunion have been sent!
See the 60th reunion page below for more information. If you have not received your form by email, contact the Alumnae Office right away. If you have the form and you are coming, and we hope you are, please fill out the form on line as soon as possible. This is going to be fun!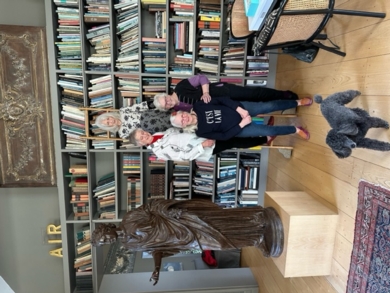 Nancy Selinka White, Dianne Demont Rapp, Susie Fickel Kroeger, Alice Godfrey Andrus shared a mini-reunion in Susie's home in Bedford NY where they reviewed the booklet in preparation.
A new challenge for matching gifts. An additional $50,000 match has been received and is waiting for you NEW donors and NEW pledgers to act during March to secure the matching funds...dollar for dollar. That means if you haven't given to the Mount Holyoke Fund this year, this is your chance to increase your gift with the match. We are at over 40% of the class giving with a goal of 60%. Thanks for your consideration. Alice, Jane and Lil.
Entries for our Reunion Class booklet are due! Our scribes need time to put it all together, but first they need to have lots of entries so the task is properly difficult. Please send in your reflections as soon as possible-- the somewhat soft due date was February 1. For more info, go to the invitation letters under the 60th reunion heading. Even if you are not attending reunion, we want you to participate.
Yeah, our 60th Reunion is coming soon!
May 26-28, 2023
Please put this date on your calendar and plan to return to South Hadley and gather with classmates. Here is a list of classmates who are already hard at work planning to make this the best 60th ever:
Class of 1963 60th Reunion Committee:
Class President - Elaine Cox Jacoby
Class Treasurer - Stephanie Smith
Communications/Web- Mary Ann Searles Weiss/Stephanie Smith/Sally Nunneley
Communications Consultant - Beverley Brown Bryant
Reunion Chair - Sally Donner
Reunion Co-Chair- Mary Ann Searles Weiss
Reunion Booklet Chair - Nancy Selinka
Costume Chairs - Diane Demont Rapp, Susie Fickel Kroeger
Hospitality Chair - Karel Mortenson Koenig
Hospitality Committee - Doris Sisley, Jenni DeWolf, Judy Widman, Mary Baisler Doyle, Marjorie Muecke
Program Chair - Gretchen Luft Harris
Reunion Scribe - Suzy Eberson Adams
Sign Chairs - Diane Demont Rapp/Susie Fickel Kroeger
Social Chair - Ruth Brown Gramlich
Memorial Chair - Eleanor Groeniger Rogan
Nominating Committee - Libby Meehan Short, Chair; Sally Nunneley, Ann Kotting Sadowsky
Reunion Gift Committee Co-Chairs- Alice Godfrey Andrus , Jane Bragg, Lilian Kemp
All these leaders would love help, so please volunteer if you would like to be more actively involved in this fun event by contacting the person who is leading your area of interest.
60th Reunion Planning Underway
2023 is coming soon and with it our 60th Reunion. If you would like to join a planning committee, please contact one of those already on board by clicking on a name listed above. We hope you will be at reunion-- you can read more about it by going to the 60th reunion page listed on the left side of this page.
Learning about Wills and Bequests
On Jan 27th and Feb 10th, 2022, a total of more than a dozen classmates participated in interesting discussions with Anne Vittoria, Mount Holyoke's Director of Gift Planning. Videos of the two sessions can be found here: January 27 and February 10. You may have to turn up the volume.
If, after watching one or both videos, you have questions or want to discuss your situation confidentially, Anne or Dana would be happy to talk with you at 800-642-4483 or you can email them as shown below.
Anne Vittoria FP'05 Director of Gift Planning avittori@mtholyoke.edu
Dana Gillette Gift Planning Officer dgillett@mtholyoke.edu
MHC video you might enjoy....
*** Please check out our class President's latest message to us under Class Business/President's letters.
From your website administrators:
We hope you enjoy using this tool to keep in touch with classmates and class activities, including upcoming mini-reunions. If you have postings, requests, complaints, comments, please let us know. Mary Ann, Stephanie, and Sally. In the meantime, please add to your profiles-- pictures are especially wonderful.
Most pictures throughout the website are from Ken Briers (Sally Donner's husband), Colby Andrus (Alice's husband), Mary Raine and Mary Ann Weiss. We would welcome more from others.