Mount Holyoke College
Class of 1963
Welcome to our Mount Holyoke Class of 1963 website. If you are a classmate visiting for the first time, you should find your name on the Classmate Profile list. To join the site and be able to see other classmates' profiles, click on your name and follow directions. Enjoy!
ANNOUNCEMENTS
Go to the Class Business section to read a letter from Class President, Karel Mortenson Koenig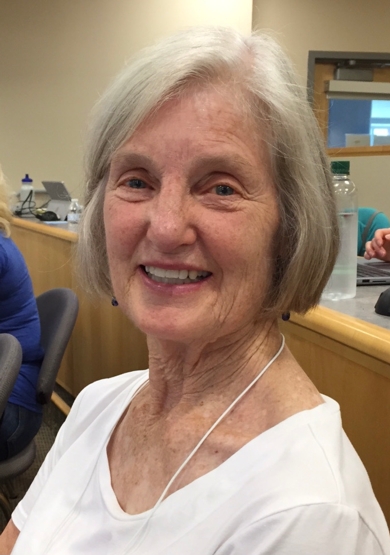 I know this is an old photo, but I like it of Karel-- MA
It's here! Our 60th reunion book is now posted on line and it looks gorgeous! Congrats to the amazing and dedicated editors who pulled together all the contributions from nearly a hundred of our classmates.

Hard copies were distributed to those at our 60th reunion and there may be a few remaining copies that could be purchased from Nancy. We will also keep the posted copy on line and if you would like to be included and add your reflections to it, we would love it. Please send your entry to the principal editor, Nancy Selinka White, who will include them.
Class leaders for the next five years
At reunion we elected our new class officers, including president, Karel Mortenson Koenig. See who wilil be leading us into the mid-2020s on this website Class Officer page under Class Business.
Reunion was terrific! Thanks to Sally Donner and her committee for making this both fun and thought provoking. The weather they ordered was spectacular. Everything went smoothly. It was wonderful to see every one who was there and we greatly missed those of you who were not able to make it.
Suzy Eberson Adams has sent in a recap of reunion that is now posted on this website. We have added in photos from Ken Briers (thank you, Ken!) and others. If you have stories, comments and/or pictures to contribute, please send them to me (Mary Ann Weiss) or Suzy Eberson Adams or Stephanie Smith.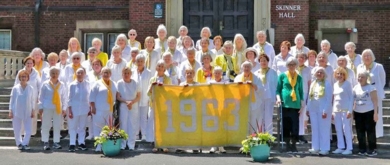 Learning about Wills and Bequests
On Jan 27th and Feb 10th, 2022, a total of more than a dozen classmates participated in interesting discussions with Anne Vittoria, Mount Holyoke's Director of Gift Planning. Videos of the two sessions can be found here: January 27 and February 10. You may have to turn up the volume.
If, after watching one or both videos, you have questions or want to discuss your situation confidentially, Anne or Dana would be happy to talk with you at 800-642-4483 or you can email them as shown below.
Anne Vittoria FP'05 Director of Gift Planning avittori@mtholyoke.edu
Dana Gillette Gift Planning Officer dgillett@mtholyoke.edu
MHC video you might enjoy....
From your website administrators:
We hope you enjoy using this tool to keep in touch with classmates and class activities, including upcoming mini-reunions. If you have postings, requests, complaints, comments, please let us know. Mary Ann, Stephanie, and Sally. In the meantime, please add to your profiles-- pictures are especially wonderful.
Most pictures throughout the website are from Ken Briers (Sally Donner's husband), Colby Andrus (Alice's husband), Mary Raine and Mary Ann Weiss. We would welcome more from others.