Mount Holyoke College
Class of 1963
Welcome to our Mount Holyoke Class of 1963 website. If you are a classmate visiting for the first time, you should find your name on the Classmate Profile list. To join the site and be able to see other classmates' profiles, click on your name and follow directions. Enjoy!
ANNOUNCEMENTS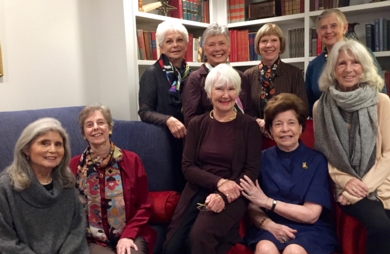 New York lunch... check out who is who in Classmate Gatherings.
*** Please check out our class President's latest message to us under Class Business/President's letters. Blessed holidays and New Year to everyone.
What's new on our website? You can still peruse our reunion pictures, memorials, class officers, and also find links to campus websites on MHC Links. Let us know if you have other links to add. We have renamed and reorganized our pages listed on the left. Let us know how this works for you.
We are also looking for seasonal photos of campus and more pics of classmates on the move. Anywhere in the world will be fun for us all to see. We especially love seeing photos of classmates together.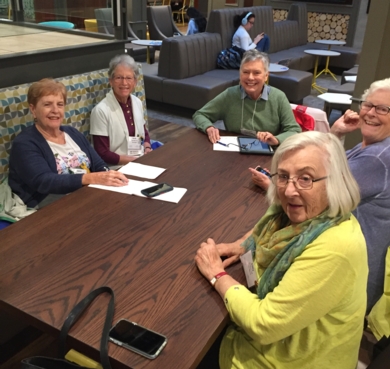 September planning meeting at Volunteer Conference with Elaine Cox Jacoby (Class of '63 President), Sally Nunneley (website), Mary Ann Weiss (website), Alice Godfrey Andrus (Head Class Agent) and Sally Donner (Beyond the Fiftieth Committee).
From your website administrators:
We hope you enjoy using this tool to keep in touch with classmates and class activities, including upcoming mini-reunions. If you have postings, requests, complaints, comments, please let us know. Mary Ann, Stephanie, and Sally. In the meantime, please add to your profiles-- pictures are especially wonderful.
Most pictures throughout the website are from Ken Briers (Sally Donner's husband), Colby Andrus (Alice's husband), Mary Raine and Mary Ann Weiss. We would welcome more from others.