Mount Holyoke College
Class of 1963
60th Reunion
Dear Classmates -
Below is our initial invitation to attend our 60th Reunion on campus May 26-28, 2023.
Please print and return the form on the second page.
We look forward to seeing you there.
Sally Donner, Reunion Chair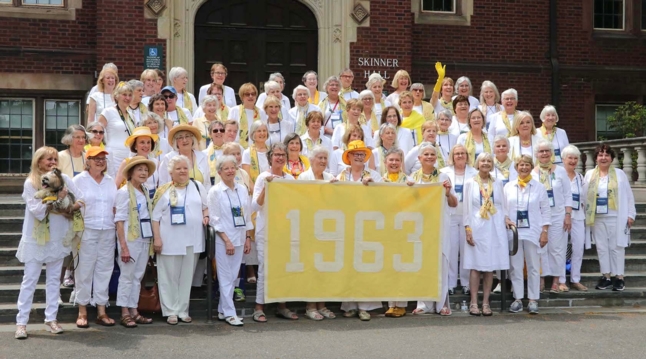 Picture from our 55th reunion, taken by Ken Briers
Meanwhile, these are the classmates who have already responded... we are on our way to our 60th class reunion!
Will Attend
Lois Wolfe Siegel
Mirja Perkko Muncy
Alice Andrus
Sally Donner and Ken Briers
Connie Woodruff Atwell
Betty Burton
Mary Baisler Doyle
Ann Glickman
Ruth Brown Gramlich
Karel Koenig
Marjorie Muecke
Madeline Muecke
Sally Nunneley
Judy Reeve
Ellie Rogan
Lucy Rosborough
Stephanie Smith
Nancy Selinka White
Diane Demont
Elaine Cox Jacobi
Libby Short and Mike
May Attend
Emily Miller Aulaire
Dee Mulreany O'Brien
Margaret Smith Woodruff
Deborah Jones Hall
Sandra Kenyon
Jane Engstrom Darby
Paula Kaplan
Cynthia Prescott Hedin
Sally Kelly Bierhaus
Ann Sadowsky
Mary Ann Weiss
Susie Kroeger
Not Attending
Shirley Smith Giles
Libby Hazen
Vandy Humphrey
Mary Smagola Reily
Lydia Svast
CLASS OF 1963 60TH REUNION
Ever Adapting Still Evolving Always Involved
Greetings dear classmates -
The countdown to our 60th Reunion has begun. Join us in South Hadley, May 26-28, 2023.
Your reunion committee has been hard at work planning what will be a wonderful weekend, enjoying lifelong friendships and making new friends.
Much of the weekend program will resemble those of past reunions – tours of the campus including the new maker space in Prospect Hall, "Back to Class" opportunities, the Alumnae Association Parade and meeting, Classmate Remembrances, plus plenty of free time to enjoy each other and the beautiful campus.
Some aspects of reunion will be special for our class. All meals (breakfast, lunch, and dinner) will be served at the Willits-Hallowell Center. Minivans and golf carts will be available to transport us; students and alumnae volunteers will be on hand to assist us. Our dorm assignment will be made after the reservation deadline when we know how many classmates will attend.
After Friday night's dinner, we will gather informally, led by Gretchen Harris, to reflect on our reunion themes: "Ever Adapting, Still Evolving, Always Involved." A few classmates will get the conversation started by sharing their thoughts on one or more of these themes. Then, the floor will be open for everyone to contribute to what we hope will be a thoughtful, open, and entertaining discussion. We encourage you to think about our reunion themes, even if you cannot be on campus in May. And, if you are looking for ideas on what to write for the class booklet, do consider one or more of the three themes. Your reunion committee has tried it and found the exercise rewarding.
And that brings up our 60th Reunion Book. Everyone enjoys the "Class Book," which has been our tradition to distribute at reunions. For this reunion, under the leadership of Nancy Selinka White, and with the assistance of our webmasters Mary Ann Searles Weiss and Stephanie Smith, the book will be produced on our class website, and you'll be able to read it before reunion. You will hear more about how to contribute to the book shortly.
We estimate the reunion package will cost about $300. This will include two nights housing, five meals, the Alumnae Association registration and event package, and class reunion fee. The guest fee will be $250. Scholarships will be available. We do not want anyone to stay away because of the cost. Some of our additional costs will be subsidized by classmates. If you would like to contribute (any amount welcome) please send a check to our Treasurer: Stephanie Smith, 7 Audubon Way, Scarborough, Maine 04074.
Our dedicated Class Agent Co-Chairs, Alice Andrus, Jane Backus and Lil Kemp are hard at work on our 60th Reunion Mount Holyoke Fund gift. Gifts and pledges totaling $100,000 already have been committed toward our $300,000 goal.
We will elect new class officers during reunion weekend. The Nominating Committee, chaired by Libby Meehan Short (elizshort@aol.com), is working on a slate of officers. Volunteer yourself or suggest a classmate.
Your reunion committee and I look forward to seeing you in South Hadley! Sally Donner
……………………………………………………………………………………
Help us continue our planning by letting us know that you are coming.
I will attend___________ I may attend________ I do not plan on attending ___________
Alumna Name: ____________________________________________________________
Cell Phone _________________________ Email _________________________________
I'd like to stay at: Residence Hall on Campus______ Local Hotel _____ Other ______
I will arrive by: Car _______ Train ______ Plane: ________
I would like to help with: Hospitality: _______ Programs: _______ Other: _______
Please complete and return to:
Sally Donner, 736 Fifth St. NE, APT B, Washington, D. C. 20002-3587
Or email at: sdonner736@gmail.com