Mount Holyoke College
Class of 1963
60th Reunion
Yeah! Registration time has come!
The college has sent out a registration email to each of us. The official registration form is specific to each person so we cannot post it here, but some of the introduction is below. If you didn't get a form, please call or contact the Alumnae Association website and register as soon as possible. The online process works very well, I think.
May 26–28, 2023 -- Reunion II
The Alumnae Association of Mount Holyoke College cordially invites you to join your classmates for Reunion 2023, a time to reconnect with old friends and forge new relationships with alums.
From Back-to-Class sessions to the Laurel Parade to cocktail parties and festive dinners, find out what's happening during Reunion by visiting the Alumnae Association website.
As you are making your plans for Reunion 2023, please bear in mind Mount Holyoke's current health and safety information for COVID-19: Campus guests, including Reunion attendees, are required to self-assess their symptoms and should follow any and all campus health and safety protocols in effect at the time of their visit. We highly recommend that guests to campus be vaccinated for COVID-19. Please do not visit campus if you are experiencing symptoms of COVID-19.
* Should you have any problems registering for Reunion, don't hesitate to email or call us at 413-538-2201.
We look forward to seeing you on campus this spring!
*Please do not forward this email as the link to register for Reunion is specific to your profile.
Dear Classmates -
Below is our initial invitation to attend our 60th Reunion on campus May 26-28, 2023.
The form on the second page was for our planning, the official registration process is through the Alumnae Office. See above.
We look forward to seeing you there.
Sally Donner, Reunion Chair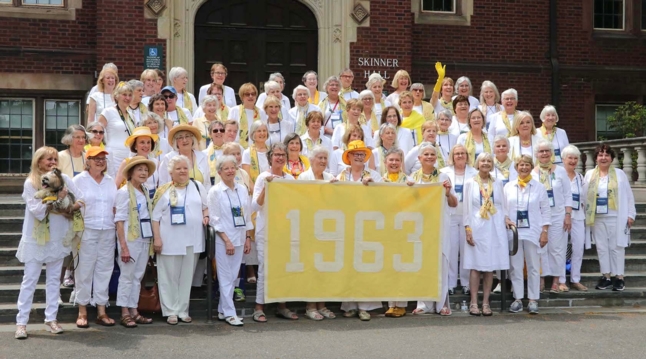 Picture from our 55th reunion, taken by Ken Briers
Meanwhile, these are the classmates who have already responded... we are on our way to our 60th class reunion!
Will Attend
Lois Wolfe Siegel
Mirja Perkko Muncy
Alice Andrus
Sally Donner and Ken Briers
Connie Woodruff Atwell
Betty Burton
Mary Baisler Doyle
Ann Glickman
Ruth Brown Gramlich
Karel Koenig
Marjorie Muecke
Madeline Muecke
Sally Nunneley
Judy Reeve
Ellie Rogan
Lucy Rosborough
Stephanie Smith
Nancy Selinka White
Diane Demont
Elaine Cox Jacoby
Libby Short and Mike
Paula Yurkanis Bruice
Joan Wicks
Nancy Welker
Jane Backus Bragg and Frank
Coralie Horne Kramer
Lanie Langen Kessler
Suzanne Eberson Adams
Gretchen Luft Harris
Edie Dulles
Mary Ann Weiss
May Attend
Emily Miller Aulaire
Dee Mulreany O'Brien
Margaret Smith Woodruff
Deborah Jones Hall
Sandra Kenyon
Jane Engstrom Darby
Paula Kaplan
Cynthia Prescott Hedin
Sally Kelly Bierhaus
Ann Sadowsky
Susie Kroeger
Not Attending
Shirley Smith Giles
Libby Hazen
Vandy Humphrey
Mary Smagola Reily
Lydia Svast
CLASS OF 1963 60TH REUNION
Ever Adapting Still Evolving Always Involved
Greetings dear classmates -
The countdown to our 60th Reunion has begun. Join us in South Hadley, May 26-28, 2023.
Your reunion committee has been hard at work planning what will be a wonderful weekend, enjoying lifelong friendships and making new friends.
Much of the weekend program will resemble those of past reunions – tours of the campus including the new maker space in Prospect Hall, "Back to Class" opportunities, the Alumnae Association Parade and meeting, Classmate Remembrances, plus plenty of free time to enjoy each other and the beautiful campus.
Some aspects of reunion will be special for our class. All meals (breakfast, lunch, and dinner) will be served at the Willits-Hallowell Center. Minivans and golf carts will be available to transport us; students and alumnae volunteers will be on hand to assist us. Our dorm assignment will be made after the reservation deadline when we know how many classmates will attend.
After Friday night's dinner, we will gather informally, led by Gretchen Harris, to reflect on our reunion themes: "Ever Adapting, Still Evolving, Always Involved." A few classmates will get the conversation started by sharing their thoughts on one or more of these themes. Then, the floor will be open for everyone to contribute to what we hope will be a thoughtful, open, and entertaining discussion. We encourage you to think about our reunion themes, even if you cannot be on campus in May. And, if you are looking for ideas on what to write for the class booklet, do consider one or more of the three themes. Your reunion committee has tried it and found the exercise rewarding.
And that brings up our 60th Reunion Book. Everyone enjoys the "Class Book," which has been our tradition to distribute at reunions. For this reunion, under the leadership of Nancy Selinka White, and with the assistance of our webmasters Mary Ann Searles Weiss and Stephanie Smith, the book will be produced on our class website, and you'll be able to read it before reunion. You will hear more about how to contribute to the book shortly.
We estimate the reunion package will cost about $300. This will include two nights housing, five meals, the Alumnae Association registration and event package, and class reunion fee. The guest fee will be $250. Scholarships will be available. We do not want anyone to stay away because of the cost. Some of our additional costs will be subsidized by classmates. If you would like to contribute (any amount welcome) please send a check to our Treasurer: Stephanie Smith, 7 Audubon Way, Scarborough, Maine 04074.
Our dedicated Class Agent Co-Chairs, Alice Andrus, Jane Backus and Lil Kemp are hard at work on our 60th Reunion Mount Holyoke Fund gift. Gifts and pledges totaling $100,000 already have been committed toward our $300,000 goal.
We will elect new class officers during reunion weekend. The Nominating Committee, chaired by Libby Meehan Short (elizshort@aol.com), is working on a slate of officers. Volunteer yourself or suggest a classmate.
Your reunion committee and I look forward to seeing you in South Hadley! Sally Donner
……………………………………………………………………………………
Help us continue our planning by letting us know that you are coming.
I will attend___________ I may attend________ I do not plan on attending ___________
Alumna Name: ____________________________________________________________
Cell Phone _________________________ Email _________________________________
I'd like to stay at: Residence Hall on Campus______ Local Hotel _____ Other ______
I will arrive by: Car _______ Train ______ Plane: ________
I would like to help with: Hospitality: _______ Programs: _______ Other: _______
Please complete and return to:
Sally Donner, 736 Fifth St. NE, APT B, Washington, D. C. 20002-3587
Or email at: sdonner736@gmail.com
********************************************************************************************************
Our most recent reunion letter:
Our 55th, in 2018
Greetings Dear Classmates –
The countdown to our 60th Reunion continues. May 26 – May 28,2023 will be here shortly, and your reunion committee is pleased to send this report of planning to date. While we won't be assigned our dorm until after the registration deadline, all our meals will be held in the Willets Hallowell Conference Center on campus.
The program begins Friday afternoon with campus tours, back to class sessions, and the President's State of the College address. Following these activities, we will gath- er at Willets Hallowell for a reception and dinner. Later that evening there will be a reception at the President'sHouse for members of the Cornerstone and Mary Lyon Societies. Saturday morning, after breakfast at Willets, we will participate with our traditional parade signs in the Laurel Parade and Laurel Chain grave side ceremony. Remember to wear white. Diane Demont Rapp has planned appropriate yellow accessories. We then will head to Chapin Auditorium for the Alumnae Association meeting. Next, we'll be shuttled back to Willets for lunch and our class meeting, where we will elect our new class officers. After lunch and our official class photo, we will honor our deceased classmates at a memorial service adja-
cent to our Class Tree. After some well deserved time to "put our feet up", we will return to Willits for a gala re- ception and dinner and a program, led by Gretchen Har- ris, celebrating our reunion theme "Ever Adapting, Still Evolving, Always Involved." Sunday morning, we'llagain be at Willets for a casual breakfast. Dorm check- out will be 12 noon.
The Reunion Committee has tried very hard to keep the cost of attending reunion as low as possible. Several classmates have made donations to the Class Treasury with the express wishes that the money be used to help
Reunion 2023
other classmates attend. Accordingly, we have established a scholarship fund for anyone who wants to attend and finds the cost a little outside her budget. The fund is maintained by Luisa Tavares in the Alumnae Office (413- 538-2201) and is completely confidential. She is the only person with whom a classmate may speak and make ar- rangements for the scholarship. Please do not let money be the reason for not coming to reunion. We want every- one who wants to come to be able to do so.
Nancy Selinka White reports that she is hard at work put- ting together our reunion class book, which will ap- pear on the class website for all to access, and in print, for those who attend reunion. She now has 81 entries! She thanks everyone who already has writ- ten, and she is extending the deadline to one week from today, for those who still want to get in under the wire. If anyone who wishes to write does not have the original letter that Nancy sent, just email her at: nancywhitemail@gmail.com, and she will resend it to you. The letter also is on our class web- site at:
https://www.mountholyokecollege1963.org/
Reunion-Book-info-letter.htm
Your class agents, Alice Andrus, Jane Bragg, and Lil
Kemp, are pleased to announce that, with the support of many of you, our class has met our 2022-2023 Mount Holyoke Fund dollar goal, and we are well on our way to be able to claim the largest 60th reunion gift ever! The anonymous class- mate who offered the December matching challenge deserves a big thank you, as does everyone who answered that challenge or
has donated (some more than once) this fiscal year. Although we are still shy of our 60% participation goal, we are confident that we can reach that goal as well. We can all be proud of the support for Mount Holyoke from the Class of 1963. Now, thanks to another anonymous classmate, new donations made during the month of March will be matched, up to a total of $50,000. To all of you who have not given yet, please do. Any size gift is appreciated. We will have a lot to celebrate at our reunion.
Your hospitality committee, chaired by Karel Morten- son Koenig, will be on hand together with student and alumnae volunteers to welcome you to campus, help with registration, answer questions, and assist with transport around campus.
To minimize plastic waste, we will not be providing bottled water at reunion. There will be a source of filtered water in our dorm to fill water bottles. If you do not want to bring a water bottle to reunion you may order one from Odyssey Bookshop, and it will be delivered to our reunion dorm. Water bottles of various types, with various MHC logos, and in vari- ous colors are available. Please use this link to look at options and for any order. You will receive a 10% discount with the coupon code BOTTLE63. https:// www.odysseybks.com/class-63-water-bottle-preorders
This is the extent of our updates for now. Registra- tion will open in mid-March. You will receive an in- vitation from the Alumnae Association to register at that time. The registration deadline is April 17. In the meantime, questions can be addressed to me at sdonner736@gmail.com. Looking forward to seeing you on campus May 26-28, 2023.
Sally