Mount Holyoke College
Class of 1963
In Memoriam
Cassie Lord (Miller)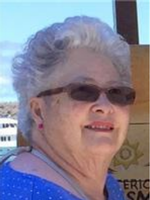 Publication: Daily Times
Date: 02/17/19
Katherine Lord Miller, 78, of Media, Pennsylvania, died peacefully in
her sleep on February 15, 2019.
Born March 18th, 1941, in Cleveland Ohio, to Charles L. Lord and Anne
Elmers Lord, she is survived by her husband of 51 years, Jaydee
Williams Miller, with whom she lived in Riddle Village, and by her
children, grandchildren, brother, other relatives, and dear friends.
Katherine received her B.A. from Mount Holyoke College, and a Master's
degree in Economics from Georgetown University in l963. She worked for
the Central Intelligence Agency for a number of years, and in 1965,
she married the love of her life, Jay Miller. They moved to
Wallingford Pennsylvania, where they had 2 children. Katherine was a
devoted mother and grandmother of six, even as she acted for 50 years
as a leader and member within the League of Women Voters of
Pennsylvania. Her administration and advocacy contributed to the
effectiveness of the League during those years.
Katherine was a remarkable mother and cook, and she prepared meals
from vegetables she grew in her garden. She had a giant heart, and
generously gave of her time and expertise to everyone around her. She
will be remembered by a multitude of friends and family.
In addition to her husband Jay, Katherine is survived by her children
Alex Miller and Margaret Miller Martsching and Margaret's husband
Bradley Martsching. Her six grandchildren, Rachel, Jack and Ainsley
Miller, and Hayden, Zach and Madeline Martsching, affectionately
remember her, and the adventures they spent together. She is also
survived by her brother, Chip Lord, his wife Beth Haas, and their
daughter Sophia Zamudio-Haas.
The family wishes that in lieu of flowers, a donation in her name be
made to the Helen Kate Furness Free Library which Katherine valued,
and where she worked as a volunteer for many years.