Mount Holyoke College
Class of 1963
In Memoriam
Jane Miller (Powell)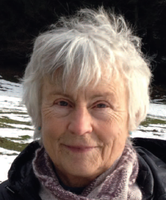 Jane Miller Powell died on March 19, 2018, of ALS (Lou Gehrig's Disease). She was my first-year roommate at Mount Holyoke, and we had remained friends and visited back and forth for all these years.
Jane's parents were with USAID and the family lived all over the world. In 1959, Jane came to college from India; after that, her family moved to Mogadishu, then a lovely city. Jane majored in Sociology and married in Abbey Chapel right after graduation. She did not love her college experience and never came to a reunion.
Jane's husband, Alan Powell, was a British diplomat whom she met in Mogadishu, and Jane was required to change her citizenship. They lived in the capitals of Peru, South Africa, and Colombia with intervening periods at home in England. Their children are Robert (a physician) and Janet (a physical education teacher at international schools). Jane and Alan when their children were school-age but remained friends.
Jane then trained as a counselor and lived in London, where she worked with, among others, troubled immigrant families and anorexic ballet dancers. She later partnered with Barry Newland, a classical musician, and they moved first to Salisbury and then to Loughborough. Barry died unexpectedly several years ago.
I last saw Jane in England in 2015. She was happily retired, spending her time on family activities, gardening, reading and long walks in the countryside. Her son and his family lived nearby, and Jane often went to Switzerland to visit with Janet and her family. She was diagnosed with ALS two years ago, but was able to continue living on her own in the house she and Barry had bought. We corresponded by email and sometimes talked on the phone.
Robert wrote me on March 9th: "We are sadly reaching the last few days. Jane is being cared for at our local Hospice and has loved receiving all the news by email from her local and international friends…She has been extraordinary in her acceptance and pragmatism throughout this illness and until Christmas was still doing well and enjoying life."
Rest in peace, my dear friend.
Sally Nunneley
*********************************************
Robert Powell's Eulogy for his Mother, Jane Miller Powell
Note from Sally: Motor Neuron Disease (MND) is the British term for Amyotrphic Lateral Sclerosis (ALS).
Thank you all for coming to remember Jane with us today and I hope you will join us afterwards at 24 Colgrove Road. You will all be aware that my mother was someone who hated a fuss, she was a minimalist in many ways and lived a very simple life. She put her energies into her interests and her relationships and never coveted a material life. It was typical of her that she was parsimonious with herself but generous to others. Our cousin Jenny Riggan put it very well: "she took up no more space than she needed on the planet". I think to understand her you have to know something of her life so here is a brief summary:
Jane was born in Washington DC 5 days before Pearl Harbour, she was the oldest of four children and her father spent the next four years at sea on an aircraft carrier so her Grandmother was a formative influence early in her life helping out whilst Jane's mother volunteered in a local hospital. Their life changed significantly in 1949 when her father went to work on the Marshall Aid Plan reconstructing post war Europe, so the family moved to Paris and then Rome before several years in New Delhi where my mother attended a boarding school in Mussorie - a hill station. India and Woodstock school were a very powerful influence on her life and she never forgot the people and friends from her teenage years. Her lifelong love of the mountains stems from her experiences in the Himalayas with camping trips and firm friendships forged in a tolerant multiracial school.
She attended college in Massachusetts at Mount Holyoke, another strong influence at a time when women were finding their voice in society in the early 60s. Her room mate Sally went on to be a doctor at NASA - typical of the output of independent and spirited women from Mount Holyoke. She met my father in Somalia where her parents were posted - he was a young dashing British diplomat. They married at Mount Holyoke and she became a diplomatic wife and mother.
Janet and I were born in 1966 and 1967 in South Africa during the apartheid era - something she despised. After another home posting the family moved to South America where we lived in Bogota, another society full of challenge and inequality. Perhaps unsurprisingly she found the limits of diplomatic life constraining and when Janet and I started boarding school in 1975 my parents split up and Jane chose to remain in London where she essentially lived the life of a student. It was typical of her and my Father that they remained on amicable terms and put our interests first throughout what must have been a difficult period.
She meet her friend Rosemary at St Martins in the Fields whilst volunteering. Rosemary was training to be a counsellor and Jane knew immediately this is what she wanted to do, she spent the next 20 odd years living in London studying and building a psychotherapy practice, and living in a huge old unmodernised townhouse on a beautiful garden square. She had one floor to herself and adored Notting Hill and was completely unbothered by the magnificent decrepitude of her surroundings.
She met her partner Barry on a Ramblers holiday and they moved to Wiltshire to a cottage in Honey Street where she continued to practice, the friends she made whilst working and training as a counsellor were very important to her and changed the course of her life. Some of you are here today and we know that you have been instrumental in her ability to live a full and enjoyable life after Barry's death and following her diagnosis with MND. The death of Barry was completely unexpected, he was only 59 and it was a great blow to her and the family but she rebuilt her life here in Loughborough with good friends from the allotment combined with interests in the arts and the Soroptomists. She was also part of a film group and avidly attended concerts and lectures.
Jane threw herself into her duties as a grandparent and spent periods in Switzerland looking after Zak, her youngest grandson , with whom she formed a close bond. We were very fortunate that she and Barry moved to be near us after they returned from a wonderful year travelling and living with my sister in Thailand, Alex, Evie and Zak have had the privilege of growing up with her example and her practical help. She took Evie to University interviews, fetched them from school and paid for them to travel whilst at University. She was a friend and supporter and was often overcome with emotion when witnessing their successes or setbacks.
She was close to her sisters Ann and Maria and her brother Bob who sadly died not long after Barry leaving his widow Carol. Jane and Carol shared the pain of their losses and have been a mutual support to each other. The Miller and Riggan family have a strong bond of kinship and have been a notable influence on all of us despite the fact that Jane chose to make her life in England whilst her siblings all settled in the USA.
Jane had an impish sense of humour and a directness that sometimes surprised people, she loved striking up conversations and not infrequently returned from an outing with tales of a new friend made on the bus or at a concert. She had no time for small talk but but enjoyed conversations about the issues of our time. She was a liberal and humanist and valued calm and peace. She fought against her own impatience and could be impulsive but loved walking and her garden and was still weeding a year after her diagnosis with MND.
There is no doubt in my mind that her mental fortitude in the face of her MND was partly due to her years of counselling and reflection. She formed close bonds with her counselling friends who have supported her throughout. During the last two years she continued to live her life on her own terms, she never appeared to feel sorry for herself and she clearly wanted to avoid any distress to others. She was adamant from first diagnosis that she was not a victim, she lived with the condition and declined any intervention to prolong her life artificially. When the end came it was because she decided in a wholly conscious manner that she no longer wished to endure the disease and stopped eating and drinking completely. Her strength and courage were formidable and the formative experiences of her upbringing gave her a powerful sense of belonging to a greater whole, she was not afraid of death and approached the matter with disarming pragmatism and acceptance, even though she bore the burden of knowledge that any person with MND inevitably has to deal with. She disagreed with this country's laws on assisted dying and she wanted to see a change in policy to reflect greater powers of self determination in death as well as in life.
Jane left a substantial bequest to her chosen charities; Plan International, LOROS, and the MND association and she would have been the first person to thank them for the first class care they gave her, but most importantly for the respect they afforded her autonomy and wishes.
To commemorate her life we are going to hear some musical tributes from her grandson Zak with her brother in law John. We will also hear Barry playing the Swan from the Carnival of Animals- a piece that was very dear to her. We are grateful that Atta Kwami will say a few words on behalf of her local friends who have been a great comfort and support and she would be touched to see you all here.
Our family will not be the same without her, and we will miss her terribly, she would want us to live happily but most of all with a respect for our fellow travellers through life. Thank you, we will now sing "Morning has Broken".
*********************************************
Reflections on Jane by friends Pamela Clarkson and Atta Kwami
We should like to say a few words about Jane as a friend. We cannot pretend to speak on behalf of all Jane's friends who are many and of longer-standing than us. About six years ago Pamela met Jane at the Ingle Pingle allotment. Jane kindly showed Pamela the 'correct' way to re-coil the communal hosepipe. After that she swiftly became a dear friend to both of us.
Jane was beautiful and smart in appearance, highly intelligent, a wide reader, a deep and radical thinker, principled, generous, kind, and good fun. Just like the lovely photograph on the cover of the Order of Service.
Loughborough can, at times, be challenging for those seeking cultural entertainment and stimulus, but Jane could winkle out the most unlikely events of interest from issue-based films at the University, jazz concerts in Churches, lectures on unusual subjects, exhibitions and craft fairs.
She was also a great walker, putting us to shame as she strode out purposefully across the Leicestershire landscape. Friends, Anne and Malcolm, talk of her walking for miles, and continuing to do so until it became too difficult. Again, Jane had secret knowledge; she could find little-known public pathways obscured by brambles — ancient woods and much-loved craggy outcrops. We would often receive text messages from Jane on a dull Sunday afternoon: "Fancy a walk, I can pick-you-up in ten minutes?" Jane would then transport us from our bricky terraced house to somewhere beautiful. Jane's creed was to seek out something beautiful to give shape and meaning to each day, a joy she conveyed to others.
Her friends Mary and Keith have spoken of their friendship with Jane as one of the great pleasures of their retirement years; they shared trips to the theatre and talk of art and books. Anne and Malcom mention her inclusive view of the world and its diversity as an interesting mark of her character. The formation of the film group, some years ago, which she instigated, was typical of the way Jane operated. Her idea was to lighten dreary winter evenings by meeting up with friends to share and enjoy a film, food and good conversation. Jane had a talent for bringing people together; she successfully organised the summer party at the allotment which helped to cement friendships there also.
Anne and Malcom go on to say that they were full of admiration for the way Jane dealt with her illness: "We never heard her complain. She continued with her life enjoying all the activities which brought her pleasure: concerts, cinema, reading and seeing her friends. Above all, she took great pleasure in her family of whom she was extremely proud."
Pamela visited Jane weekly in the last few months to help with housework and the garden. She was touched by Jane's selfless forward-planning that included planting-out clumps of white narcissi bulbs so that the garden would look lovely in the spring when she imagined the house changing hands.
Jane was demonstrative in her appreciation of the smallest kindness, generous with her hugs. She had always been interested and supportive of our work as artists which I know meant a great deal to Pamela. She encouraged us to excel. Up until our last visit Jane was lively and engaged, still posing pertinent questions to thorny political problems, and always condemnatory of injustice.
Jane was endowed with a rare, courageous humanity: she could, however, be mischievous. Pamela remembers collapsing with laughter at some of Jane's pithy comments relayed via her tablet and acted out with exaggerated gestures.
Jane reserved her deepest love for her family and old friends, and we should like to thank them for their unswerving love and support over the last years and months. Thank you.
We shall all miss Jane.