Mount Holyoke College
Class of 1963
In Memoriam
Caroline Stewardson (Lange)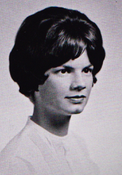 Publication: The Boston Globe
Date: 08/20/17
Text: LANGE, Caroline Stewardson 75, died of a stroke followed by cardiac
arrest July 24, 2017 at Cape Cod Hospital. Educated at Dana Hall,
Shipley School, and Mount Holyoke College, Caroline was a loving,
kind and generous person. She worked for more than 30 years as
Director/Manager of technical writing at Lincoln Labs, MIT, and
several large networking companies. Caroline lived in Cambridge,
Wellesley, and Eastham. She will be dearly missed by her loving
husband Gerald and son Christopher, as well as her nephew, Dana H.
Stewardson of Haverford, PA, and nieces Elizabeth Connolly of
Lexington and Caroline S. Thornewill of Nantucket, as well as by her
lifelong and dearest friend Elizabeth Martin of Newton. A private
memorial service will be held in her honor. Burial will be at Laurel
Hill Cemetery in Philadelphia. Assisting the family is Hamel Funeral
Care & Cremation Service of Massachusetts.