Mount Holyoke College
Class of 1963
In Memoriam
Mary Allison (Powers)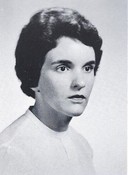 Obituary for Mary Allison Powers
Mary Allison Powers, 78, died on September 11, 2019.
Mary was born in Garden City, NY on April 9, 1941, to William Kelby and Virginia A. Allison. She attended public schools in Garden City, NY, and graduated from Garden City High School. She earned a B.A. in History from Mount Holyoke College in 1963, and an M.S. in Library Science from Rutgers University.
While living in West Philadelphia, she was a member of the League of Women Voters. In the 1970's, she volunteered at the Merion Elementary School Library. While her husband was a professor in the University of Pennsylvania's Department of Mathematics, Mary was a long-standing member of the Faculty Tea Club of the University of Pennsylvania, which was renamed during her tenure as the University of Pennsylvania Women's Club. She served on the club's Board in multiple leadership positions, and greatly enjoyed managing the Thomas S. Gates scholarship. She was a long-time member of the Church of the Holy Apostles, Penn Wynne, where she served as Treasurer, Sunday School Director, head of the Women's Club, and head cook for many luncheons and Shrove Tuesday suppers.
In 1973 Mary began volunteering for Main Line Meals on Wheels. For over thirty years, she made weekly visits to deliver food and a friendly visit. Mary was invited to serve on the Board of Directors in 2004, and was Corresponding Secretary during her six years as a board member.
Mary is survived by her husband, Robert Powers, her daughter, Elizabeth Powers, and her
grand-daughter, Katherine Powers, and brothers Alexander (Rinda) Allison,
and Peter (Carol) Allison.
A memorial service will be held on Saturday, November 9th at 4:00pm at the Church of the Holy Apostles, at Remington and Dover Roads, Wynnewood, PA.
***
Her husband sent the following note to the college on 18 September:
Text: My wife Mary Allison Powers died 9/11/2019... Mary had Alzheimer's and
was bed ridden since 2011. We were married in July 1963.
His address is:
Mr. Robert T. Powers, PhD
14 Iona Ave
Narberth, PA 19072-2315