Mount Holyoke College
Class of 1963
In Memoriam
Katherine Torgerson (Randolph)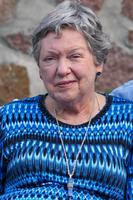 Katherine T. "Karin" Randolph died on October 6, 2021, at home in hospice care. She was preceded in death by her mother Verna Torgerson and father Harold Torgerson. She is survived by her husband John Randolph, daughters Amy (Steve) Plum, Mary (Tony) Frye, and Kat Randolph. She is further survived by three dear sisters-in-law and six grandchildren.
After graduating from Mount Holyoke College, she completed training as a physical therapist at Duke University. She enjoyed engaging with people, especially the healing touch entailed in her profession. Some twenty-five years later, after a serious illness impaired her balance and interfered with her work, she took courses in accounting and finance. She served as a church secretary and treasurer and also sought training as a yoga instructor, preserving a connection with her physical therapy background.
After retiring with John to Minocqua, Wisconsin, in 2006, she became a vital member of the St. Matthias' Thrift Shop community, serving as treasurer for almost 15 years. At the same time, she provided twice-weekly yoga classes, until the disruption of covid-19. Karin belonged to a goodly number of book clubs, and was an insightful and enthusiastic philosophizer. More recently, she served as treasurer for the League of Women Voters of the North Woods.
Karin was a loving person. She was a wonderful spouse, dedicated mother, affectionate and loyal friend. There will be a celebration of Karin's life at St. Matthias', yet to be scheduled. Memorials may be made to St. Matthias' Episcopal Church, 403 E. Chicago Ave., Minocqua, WI 54548.
-- Text and photo provided by John Randolph