Mount Holyoke College
Class of 1963
In Memoriam
Janet Levy (Rapoport)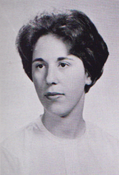 Clippings
Publication: Herald Tribune
Date: 01/20/14
Text: Janet Garelik Rapoport died on January 11, 2014 after a five year
battle with ovarian cancer. She is survived by her husband Michel
Rapoport, her children Matthew and Diana, her daughter-in-law Karen,
her three grandsons Zachary, Joshua and Jeremy, and her brother David
Levy. A Mount Holyoke university graduate, Janet excelled as an
architect, artist, photographer and gourmet cook. She was an
invaluable friend who touched many lives with her eternal optimism.
A note from Judith Dolger Widmann:
Janet was my roommate freshman and sophomore years. We had met while in summer school on the French Riviera in 1959, just before leaving for MHC. There were only a handful of American girls there and we were amazed that somehow 2 of us would be at the same, small women's college in the fall. Janet was a truly unique person. She had so much dynamism, intellectual and physical energy, intense curiosity and loved having fun. The summer we were ostensibly taking French classes, we were mostly on the beach and/or chasing boys. She had incredible experiences that summer, but had also been a world traveler for many years before that, so was pretty sophisticated about travelling in Europe and living abroad.
After college she lived in Manhattan with some classmates, then married and had her two children, Diana and Matthew. She moved to Stamford, CT and lived there many years. After her divorce in the '80's, she went back to school to become an architect, passing the very difficult AIA exam and starting out in a small prestigeous firm in New Canaan. She soon went out on her own and redesigned both commercial and private locations. In my house, she re-did my kitchen, my bathroom and my library, as well as consulting on decorating purchases. She had a real flare and excellent taste in design and art.
She met and married a Frenchman, Michel Rapoport, who lived and worked in Greenwich, CT and they bought a house in Provence, where they spent many summers, even including the summer of 2013. They also bought a house in Sarasota and gave up living in CT altogether.
In late 2008 she received a diagnosis of ovarian cancer and had surgery in January, 2009. Typical of Janet, she carefully researched where the surgery should take place, and later which doctor/hospital should be in charge of her treatments. She decided that Cedars-Sinai in Los Angeles had a doctor and program that appealed to her the most. This also gave her a chance to visit her two children, who both live there, and see her grandchildren frequently. We all knew she would not be with us forever. She had 5 mostly good years after her surgery, and kept up with her many friends and loved ones. We cherish her memory and are sad that all we have left now are those memories.