Mount Holyoke College
Class of 1963
In Memoriam
Dorothy Key (Thompson)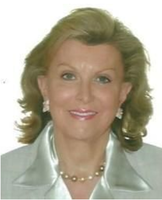 From http://sparkman-hillcrest.tributes.com/
Dorothy "Dottie" Margaret Key Thompson was born in Oklahoma City, on July 20, 1941, the youngest child of Homer Denning Key and Althea Lawler Key. Her older siblings were Homer Jr., Robert "Bobby", and Janie. After living in Sapulpa, OK, and Tyler, TX, the Key family moved to Dallas in 1945, and lived at 3720 Miramar for the rest of Dottie's home life.

She attended Armstrong Elementary, Hockaday through grade school and high school, Mount Holyoke for one year, and then the University of Texas, where she was Treasurer of the Pi Beta Phi sorority. Dottie was a duchess in the Tyler Rose Festival in 1960, and also a 1963-64 Dallas Idlewild Debutante.

She met the love of her life, Jodie Thompson, when she was fourteen years old, and they dated eight years, and were married on June 29th, 1964, at Christ the King Catholic Church. Dottie and Jodie lived as newlyweds in New York City, NY for two years. They then lived in Mexico City, Mexico, for two years, where their oldest child, Dottie Jr. was born in 1966. Dottie Jr. later married Brett M. Poston. Their next move was to San Juan, Puerto Rico, for three years, where their son, Jodie Jr. was born in 1968. Jodie Jr. later married Shannon S. Thompson. They finally moved to Dallas, in 1971, and had their youngest child, Shannon in 1974. Shannon later married Andrew B. Bradford.

Jodie was an executive of Southland Corp., founded by his father, Jodie Thompson Sr., from 1971-1986. Dottie and Jodie were members of Young Presidents Organization, and Dottie joined her husband for many Southland and YPO activities. Dottie was a devoted mother, and the Thompson family enjoyed many special times in Snowmass, Colorado, Jasper, Canada, and at their ranch in East Texas.

Dottie and Jodie supported Dallas Theological Seminary, Providence Christian School, Prison Fellowship Ministry, Focus on the Family, M. D. Anderson, Harvard Medical School, Council for Life, and Missionaries of Charity, founded by Mother Teresa.

Dottie was a member of Crystal Charity, the Dallas Women's Club, Sweetheart Ball, Hesitation, and the Dallas Garden Club. She also had a zeal for politics, served as president of the Dallas Republican Women's Club, and was influential in many city and state elections. She was a very involved parent at Trinity Christian Academy, where she made many beloved friends.

Dottie was known for her soft-spoken but very strong faith in the Lord Jesus Christ, and attended Bible Study Fellowship for many years. BSF was a huge part of her life. She invited many friends and family to attend BSF, and said that through these weekly Bible studies her knowledge of the Bible "went from black and white to living color." She was a very ecumenical Christian and had a fervent desire for Protestants and Catholics to unite (Delete word together). She was not only outspoken about her faith to those she knew personally, but also put Christian messages in full-page ads in USA Today and on billboards around Dallas. She liked to rent billboards especially preceding Easter, in hopes that she might influence someone to go to church and know their Risen Savior.

Dottie and Jodie produced two films, Hollywood vs. Religion, and Hollywood vs. Catholicism, involving nationally known film critic, Michael Medved, James Dobson, of Focus on the Family, and Chuck Colson, of Prison Ministry Fellowship, in their efforts to expose media discrimination of God, Christ, priests, and religion in general. Dottie and Jodie also started the first Catholic radio station in Dallas, KATH-910AM, which has grown to be the largest English Catholic radio station in America, and KJON-850AM, which has grown to be the largest Spanish Catholic radio station in America.

Jodie is a board member of Catholic League and was a founding member of the Dallas chapter of Legatus, and Dottie accompanied her husband on trips to attend Catholic League meetings in New York City. In 2008, Dottie and Jodie were invited by President George W. Bush to the White House to greet Pope Benedict XVI. Dottie became a Catholic, joining Jodie, a life-long Catholic, in April 2013.

Dottie had many creative talents, especially as a homemaker, and hosted a number of social, political, and charity events, including two spectacular weddings at her home in Preston Hollow. She was an animal lover, who cared for strays and especially enjoyed cats, deer, rabbits, foxes, elk, bear and horses. In addition to the various charities Dottie supported, she also gave many, many gifts of person-to-person kindness, and helped pay for the education of several non-family members.

The pride of her life was her eleven grandchildren: James, George, Beverly, Elizabeth, David, and Anne Poston, Margaret, Jodie, and Denning Thompson, and Lillie and Caryline Bradford, whom she called, "her darlings." She was known to her family as someone who loved quiet, meditative time with her Bible, and her favorite Bible verse was "Be still and know that I am God'''" Psalm 46:10. She was a person of prayer, who listened for the Holy Spirit's direction and recognized God's sovereignty in the "coincidences" of life.

She was a gifted organizer and planner, and always went all out to make family celebrations and holidays incredibly special. In the early years, Dottie loved to read to and play games with her children, and she carried this on with her grandchildren. She instilled thankfulness into her children and grandchildren, and taught them to appreciate this great country, health, and other blessings. She created a rich treasury of happy, family memories, and she will always be loved and adored, not only by her three children, and eleven grandchildren, but also by all of her Thompson and Key nieces and nephews.

Dottie and Jodie were blessed to spend a few months a year at their home in Snowmass, Colorado, and especially enjoyed having family and friends come visit. Together they admired the beauty of God's creation, taking long walks on mountain trails in the summer, and snow skiing in the winter. They took car trips to many places, and usually chose not to fly. They drove many thousands of miles across America and parts of Canada. They had a very special marriage and spent enormous amounts of time together, enjoying many adventures. They were about a month from their 50th anniversary, and their legacy of commitment to God and to each other will be passed down to future generations.

Dottie was a tremendously beautiful person inside and out. She stayed remarkably positive through her battle with cancer, and taught us all a lesson about believing in God's goodness through severe trials in life. She had incredible inner strength, and faced death with no fear; only trust in her Strong Shepherd. She wanted to praise God to the end of her life, and she did.

Dottie had many life-long friends, and was overwhelmed by the outpouring of love for her during her illness. She was very humble, and was deeply touched that people did so much to care for her. One of her strongest desires at the end of her life was to express how much she appreciated all the prayers, gifts, cards, and messages of love and hope from everyone.

Dottie will be truly missed. Her love and generosity touched so many lives, and we are all better for knowing her. She made a difference. She shined Christ's light into the world. Thank You, God, for giving us the gift of her seventy-two years, and for giving her a place in Your heavenly kingdom forever.

This Thanksgiving [2014], Dottie's life will be honored by the gift of a fabulous, new organ to Christ the King Catholic Church, named for her and for the outstanding music director, Henry McDowell, whom she greatly admired, and whose music has enriched her worship.