Mount Holyoke College
Class of 1963
In Memoriam
Lea Fitzhugh (Welch)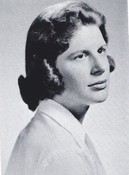 Lea A. Fitzhugh Welch died on Feb 4 2020 in Morristown, NJ. She was a teacher. No obituary is available as of Feb 8.
Harriet Stanphill writes:
Lea Fitzhugh Welch was my good friend since high school. We were room mates in college for two years as well as in Denver for a short time. She moved to Yakima, WA, from California when her husband retired and remained there until 2017, I believe. She had had problems with her back and hip for quite a while and was using a walker. After many falls and visits from EMT's, she and her husband moved to nursing homes (not the same one). Soon after that her husband passed away, and Lea's brother transferred her to a nursing home in NJ, where she would be closer to family. I still had relatives and other friends in NJ, so every time I visited them, I visited Lea. She declined fairly rapidly, developing some dementia as well as her physical disabilities. She was confined to a wheel chair. For an athletic person who excelled in just about every sport, this was very difficult.