Mount Holyoke College
Class of 1963
In Memoriam
Candace Curlee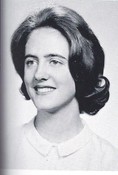 College archives include this handwritten note:
[Candace] spent years following her graduation in Paris, employed by the Paris Herald for a time.
On May 30, 1968, [she] married Roger Dumont in the pro. cathedral in Paris. Roger was manager of a small business in Paris.
[In] 1972-1974 Roger attended the Wharton School of Business at the University of Pennsylvania, following which he took a position in Detroit, where the family moved and where Candy was killed in an automobile accident Jan 16, 1976.
She was buried in West Bloomfield, Mich. She leaves two children, Karine and Christopher.