Mount Holyoke College
Class of 1963
In Memoriam
Sylvia "Sis" Dillon (Roberts)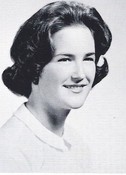 Obituary provided by the Alumnae Association
Sylvia "Sis" Dillon Roberts
From the Englewood (FL) Sun Herald (11.07.12)
Sylvia "Sis" Dillon Roberts, 71, passed away Wednesday, Nov. 7, 2012, in her home, surrounded by loved ones.
She was born May 15, 1941, in Ardsley-on-Hudson, NY, to Sylvia and Jeremiah Dillon.
Sylvia was a lifelong educator, an avid tennis player, a caring mother and a devoted grandmother. She was an involved member of the communities she loved in, whether it was Manasota Key, Florida, the Pocono Lake Preserve in the Pennsylvania area, the Adirondacks in New York, or Garrison, NY, where she raised her children.
Sylvia is survived by her husband, Henry B. Roberts, Jr.; children John B. Roberts, Mary E. Roberts, Laura Y. Roberts, Isabel R. Corbin, Samantha R. Strife and William D. Roberts; eight grandchildren; and brothers, Matthew Dillon and Bill Dillon.