Mount Holyoke College
Class of 1963
In Memoriam
Nancy Donahower (Miller)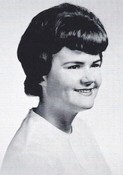 From Fall 2012 Class Notes:
With sadness, we report that Nancy Donahower Miller died of a heart attack on May 29. She served MHC in many capacities, especially as class agent, 35th reunion gift chair, and treasurer of the MHC Club of San Diego. Nancy's remarkable adaptability was inspiring. An English major with no exposure to computers during college, she pursued the exploding field of information technology. Despite the many barriers to advancement faced by women in her field, Nancy excelled. With an MS earned after her two sons were born, she advanced to senior principal engineer at Orincon, Inc., where her highly technical and successful proposals helped the firm proper. Her achievements included developing a computer system vital to Desert Storm's defense efforts. Among her dorm mates for several years were Sally Donner, Phyllis Rutter Ellickson, and Peggy Ferry Houston. [She is survived by her] husband, Dr. James Miller of Carlsbad, CA.
*
From Gravesitelocater.com
Nancy Donahower Miller (01-19-1942 – 05-29-2012) died at the age of 70 on May 29, 2012, and was buried at Miramar National Cemetery in San Diego, CA.