Mount Holyoke College
Class of 1963
In Memoriam
Margaret Ferry (Houston)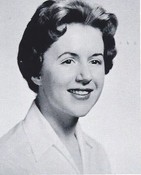 Obituary provided by the Alumnae Association
Margaret "Peggy" Ferry Houston
On Wednesday, July 4, 2012, Margaret Ferry "Peggy" Houston died from complications related to metastatic breast cancer. She was 70 years old.
Beloved wife of John D. Houston, II; mother of John D. Houston, III (Jennifer A. Houston) and Sally Houston McCrady (William D. McCrady, Jr.); sister of Gardner Ferry (Nancy Ferry); grandmother of Abby and Emma Houston, Liam and Henry McCrady.
Peggy was born in White Plains, NY, and attended Mount Holyoke College. She met John Houston at a wedding of a mutual friend in June of 1963, and they married within the year. They moved to Pittsburgh in 1966.
After having two children, Peggy decided that she would like to become a lawyer and start a second career, which in 1978 was a novel idea for a mother with young children. She entered law school at the University of Pittsburgh at the age of 37. Peggy graduated Cum Laude and had a successful 25-year career as a civil litigation attorney at the law firm of Houston, Harbaugh.
Peggy fought an epic 15-year battle with breast cancer. What her family will remember most is her overwhelming desire to continue fighting so that she could do the things she most enjoyed, which included traveling, cooking, gardening and spending time with family and great friends. She was also a voracious reader, often reading a book a day. In recent years, her greatest joy has been her four young grandchildren, with whom she tried to spend as much time as possible.