Mount Holyoke College
Class of 1963
In Memoriam
Betsy Gardner (Bowman)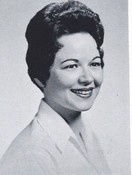 Obituary provided by the Alumnae Association
Betsy Gardner Bowman
Clippings 10/19/2011 Santa Fe New Mexican
Betsy Bowman passed away peacefully with her husband and daughter at her side in her Santa Fe home on October 8, 2011. She was 70. Betsy was a loving and caring person, always asking, "How are you?". She was known for her intellectual curiosity and love of books, her gastronomic and art interests, her sense of adventure and fun, and an ever-present smile on her face, sparkle in her eye, and laughter in her voice.
Betsy was born on August 28, 1941 in Belvidere, NJ to James Keyte Gardner of Renova, PA and Elizabeth Bray Gardner of Belvidere, NJ and her 12 year older brother, James Keyte Gardner, Jr. Betsy was proud of her ancestry, which includes Daniel Bray, an American Revolutionary who organized the fleet of boats by which General Washington crossed the Delaware River, and which supposedly traces back to William Wallace, a leader during the Wars of Scottish Independence. As a child, Betsy was quite the tomboy. She loved the outdoors and sports, especially baseball, and one of her biggest disappointments growing up was when she could not join the Little League because she was a girl. In 1951 her family moved to Charlotte, NC where she later attended East Mecklenburg High School, playing on the Eagles basketball team, acting as Treasurer of the Student Council, and graduating Valedictorian in 1959.
Betsy was always interested in life's mysteries and pursued this interest through gaining a BSc in Human Biology at Mount Holyoke University in 1963 and an MSc in Genetics at the University of Oregon in 1966.
While at Mount Holyoke, she met B. Andes "Andy" Hess, Jr. from Wilmington, DL who was studying at Williams College. They married in 1963. Betsy's first child, Elizabeth Robinson "Robin" Hess, was born in 1964 while living in New Haven, CT. After two years in Eugene, OR, Betsy moved to Nashville, TN, where her second child, John Gardner Hess, was born in 1969.
During her initial years in Nashville, Betsy taught at various schools and held numerous charity positions, such as Membership Chairman of the Nashville Symphony Guild and Club Chairman of the Vanderbilt University Women's Club. In 1973-1974 Andy's research at Vanderbilt University took the family to Prague, Czechoslovakia, a time when few Westerners were welcome. During her later years in Nashville, she managed several travel agencies, including the local American Express Travel offices. In 1992, her desire to explore other places took her to Connecticut where she opened her own travel agency, TravelScope.
Then during 1994 she experienced her first bout with cancer. But as the fighting spirit she was, she opted to participate in a trial for a new treatment by Dr. Steve Lo at the Stamford Hospital Bennett Cancer Center, a treatment that saved her life and that later became commonplace in breast cancer treatment.
Misfortune, however, struck again as her partner, Robert "Bob" C. Bechert of Stamford, CT, died from a heart attack in 1998.
Never one to give up, she moved to Cumberland, MD for work before returning to Hartford, CT as Manager of American Express Executive Travel and Concierge Services, and in 2000 she received the Centurion Club Award for her managerial talents.
She also met on the internet and subsequently married William "Bill" F. Bowman of West Hartford, CT in 2002. As retirement entered the horizon, Betsy's thirst for learning and adventure continued to grow. She became a licensed personal trainer, and then in 2006 Betsy put her dream into action and moved with Bill to Santa Fe 30 years after her first ski trip there. Betsy truly blossomed in Santa Fe, meeting and touching the lives of many. She became a docent at the Museum of Indian Arts & Culture, immersing herself in the history, culture, and art of the Native Americans of the Southwest and always happy for any opportunity to share this knowledge with others. Betsy and Bill were always off on road trips to explore and learn about the history of this beautiful region.