Mount Holyoke College
Class of 1963
In Memoriam
Judith Hansleit (Gogolewski)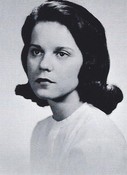 College archives include this typed note, addressed to Ms. Judith Widmann of Larchmont, N.Y.:
I write this letter to you as Co-scribe for the Mount Holyoke Class of 1963.
It is sad to report that my wife, Judith Ann Hansleit Gogolewski, passed away on 17 February 1997 after a long struggle against breast cancer.
Judy was a Russian Language and Literature major at MHC and went on to receive a Master's degree at Wesleyan University (1964) and a PhD at Vanderbilt University (1969) under the sponsorship of the governments of the United States and Russia. She taught at Wesleyan University, Ithaca College, Duke University, George Mason University, and Diablo Valley College. During our stay in Washington, D.C., she was employed by the U S government and private industry as a technical translator of the Russian and French languages.
She is survived by her husband of 33 years and three children. Her son, Raymond M. Gogolewski, is a successful entrepreneur in Silicon Valley, her older daughter Allisa Ann Gogolewski is a recent graduate of Sonoma State University and is a practicing artist. Her younger daughter, Michelle Ann Gogolewski is a High School junior and an award winning pianist.
It is with great emptiness that I write the above.
Raymond P Gogolewski
Danville, VA