Mount Holyoke College
Class of 1963
In Memoriam
Susan Horowitz (Lane)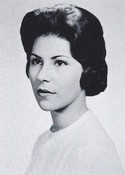 Obituary provided by the Alumnae Association
Susan Horowitz Lane
5/9/2010 Boston Globe
LANE, Susan Joyce 68; forever an optimist, died of lung cancer on May 3, 2010. Of Natick, MA was born in Newark, NJ.
A graduate of Mt. Holyoke, she earned her Bachelor's degree in Psychology in 1963.
From there, Susan took a position doing experimental psychology at M.I.T. Lincoln Laboratories. Choosing to stay home to take care of her two daughters, she became active as a volunteer with the League of Women Voters and with pregnant and parenting teens. She was also very active in her children's schools, led their Brownie troops, engaged in book clubs and played a lot of tennis.
When her daughters were teenagers, Susan became an entrepreneur as a co-owner of Forever Furs. After being diagnosed with lung cancer in 1993, Susan was compelled to sell her share of the business. Expert surgery kept her energy high and determination kept her spirits higher. She became very interested in the stock market, got involved with the Lung Cancer Alliance, and never stopped wishing for world peace.
Sue collected friends through every stage of her life, her "angels," and the love of these friends and her family sustained her during 17 miraculous years living with cancer. Susan reciprocated by making each and every one of these friends feel extraordinarily special. She had an uncanny ability for raising spirits, teaching lessons, staying positive, finding humor, and loving life. Her friends would all agree that she had been an inspiration to each of them.
Susan made every day count. She made it a point to keep her immune system strong bywalking, practicing yoga, journaling, and including alternative remedies in her daily life such as acupuncture, reiki, reflexology and herbal medicine. Susan always made it a point to "remain in charge of those things I can be in charge of."
In 1998, Susan bought a house in Falmouth, which she named CapeScape, where she passionately gardened, painted, and decorated. Her home was her spiritual haven and always an open and welcoming spot for family and friends to join her. She lived by the following expression, "Don't be afraid that your life will end; be afraid that it will never begin."
Susan leaves her sister, Jane Warach of El Paso, TX, two daughters, Cathy Rohrer of Pittsburgh, PA and Jodi McGowan of Upton, MA, their spouses, and four grandchildren in body but not in spirit.