Mount Holyoke College
Class of 1963
In Memoriam
Karen Jonsberg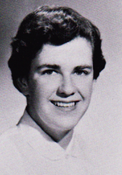 College archives include this clipping dated 1 Oct 1962:
Word has been received at Mount Hoyoke College, of the death on Saturday, of Miss Karen Jonsberg, at Peter Bent Brigham Hospital, Boston.
She was a member of the class of 1963 at Mount Holyoke College and left in March because of illness.
Miss Jonsberg, who lived in Wellesley, is survived by her mother, Mrs. M. B. Jonsberg of Wellesley and a brother, Myron B. Jonsberg Jr., also of Wellesley. Mrs. Jonsberg Jr. is the former Sara Dalmas, a 1960 graduate of Mount Holyoke College.