Mount Holyoke College
Class of 1963
In Memoriam
Mary Misch (Newmann)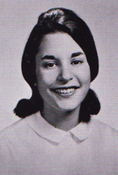 Obituary provided by the Alumnae Association
Mary Misch Newmann
7/31/2011 New York Times
Mary Misch Newman, 69, of Cambridge, MA, died peacefully of cancer on July 24, 2011, in Polson, Montana, surrounded by her loving family and the serenity of Flathead Lake. Kind, playful and generous of spirit, Mary enjoyed life to the fullest until the very end. She died with the same rare grace and strength with which she lived.
Mary was born in Manhattan in 1941 to Robert and Janet Misch. Educated at Dalton and Riverdale Country School, she graduated from Mount Holyoke College in 1963 and earned masters degrees from Bank Street and NYU School of Social Work.
A lifelong leader in education, Mary began her career as founder of an international high school in Jakarta, Indonesia. In 1980, she became Director of the Churchill School and Center and then in 1986, Head of The Town School, both in Manhattan. In 1992, Mary was named Head of School at Buckingham Browne & Nichols in Cambridge where she played a critical role in integrating faculty and curriculum across three campuses. She was also largely responsible for rebuilding the upper school campus and for establishing partnerships with Boston institutions, including the Museum of Fine Arts.
She was committed to fostering a sense of creativity, self-expression and wonder among children. Mary retired briefly in 2001, returning in 2003 to head Cambridge Friends School, where she again united a community committed to diversity, respect and social justice and built a foundation for future success.
Her success in leading four different schools stemmed from her profound faith in the unlimited capacity of children and a deep respect for teachers as professionals. These values permeated the vision and culture of each institution. Mary served on the boards of the Cambridge Community Foundation, Shady Hill School, Breakthrough for Children, Primary Source, Early Steps and Prospect Hill Academy.
Above all, Mary was a magnificent human being. The same qualities that enabled her to build and lead schools infused her relationships with family and friends. Her deep sense of caring, respect for differences, and ability to bring out the best in everyone drew people together and created enduring ties. Mary was the one to whom family, friends and colleagues turned for guidance, nurturing and inspiration.
Mary is survived by her beloved daughters Sara (Doug Sovern) and Emily (John Darrah) and their father John, her life partner Ted Smith, sister Katherine Koritzinsky (Allan), granddaughters Maxine and Sadie Newmann Darrah, niece Carolyn Fertig (Matt), nephew Bradley Koritzinsky (Keren) and grandnephews Jacob and Cameron Fertig and Yaniv Koritzinsky.