Mount Holyoke College
Class of 1963
In Memoriam
Jacqueline Mueller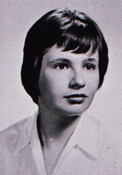 College archives include this clipping from the Express-Times, dated 14 March 1993:
Marie J. Mueller, Japanese translator, taught at Lafayette
Easton -- Marie Jacqueline Mueller, 50, of Easton died Saturday at her home.
She was a freelance translator of Japanese to English since 1988. From 1985 to 1988 she was an assistant professor in the Department of Languages at Lafayette College.
Born Sept. 16, 1942, in New York City, she was a daughter of Marie La Bascileu Mueller of New York City and the late G. Edward Mueller.
She graduated from Columbia University with a doctorate in Japanese literature, a masters degree in philosophy, a master of science and a master of arts. She received her bachelor of arts degree from Mount Holyoke College.
In 1984 she was assistant professor in the Department of Languages and Literatures at Brooklyn College of the City University of New York. Also in 1984, she was assistant professor in the Department of East Asian Languages and Cultures at Columbia University where she was a teaching assistant from 1976 to 1978. From 1972 to 1976 she was a cataloger for special collections at Columbia University Library. From 1968 to 1971, she was a Latin teacher in the Calhoun School in New York City.
She has two published Japanese translations, A Chronicle of Great Peace Played Out on a Chessboard and The Two Shizukas.
She was a member of the American Translators Association and the Association for Asian Studies.
In addition to her mother, she is survived by her husband, Fumikazu Higashihara; and a brother, John, of Seattle, Wash.