Mount Holyoke College
Class of 1963
In Memoriam
Susan Schmetzer (Kinsman)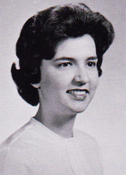 Susan (Schmetzer) Kinsman, 52, a California stockbroker, who was a former Washington investment adviser and Capitol Hill staff member, died of a heart ailment Aug. 9 [1994] at her home in Fresno, California.
Ms. Kinsman, was born in Chicago. She was a history and international relations graduate of Mount Holyoke College and received a master's degree in international relations from Georgetown University.
She was an analyst with the Central Intelligence Agency in the early 1960s, then lived in California from1967 to 1974, where she worked for the State Assembly's Ways and Means Committee and for Assembly Speaker Willie Brown (D).
She returned to the Washington area in 1974 and spent the next three years on the staff of Sen. Alan Cranston (D-California). She then held a variety of jobs before becoming a tax specialist with the law firm of Lehrfeld & Henske. From 1990 until moving to California in April 1994, she had been an investment advisor with former FDIC chairman L. William Seidman's investment concern.
Her marriage to Robert Kinsman ended in divorce.
Survivors include a sister, Linda Cronin of Fresno.