Mount Holyoke College
Class of 1963
In Memoriam
Mary Jane Schmidt (Rutsch)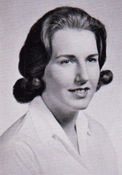 Mary Jane (Schmidt) Rutsch, 47, of Newton, NJ, died April 28, 1989 at Newton Memorial Hospital after a long bout with cancer.
Mrs. Rutsch graduated from Teaneck High School in 1959. She received a B.A. degree (cum laude) from Mount Holyoke College in 1963, and attended the Historic Preservation Program, Columbia University Graduate School of Architecture and Planning, from 1973-1978.
Mrs. Rutsch started her career in 1963 as a technical textbook editor with Prentice-Hall, Inc. and also worked in that capacity for Harcourt, Brace & World (now Jovanovich). In 1966, she became a freelance editor, responsible for the publications of the American Indian in New York City, The American Civilization Institute of Historic Archeology, and the bulletin of the Archaeological Society of New Jersey. In 1973, she founded a cultural resource management firm specializing in industrial site s – Historic Conservation and Interpretation, Inc. of Newton – of which she was owner and Secretary-Treasurer.
She served as a trustee of the Passaic County Historical Society, 1974-1978, a trustee of Culver Brook Restoration Foundation of Branchville, 1980-1983, and was a founder of the Historic Preservation Coalition of Sussex County in 1985.
Mary Jane was a founding member of the Society for Industrial Archeology, which she served in a number of ways, as Registrar at the First Annual Meeting at Cooper Union, New York, and as Director of two SIA Fall Tours – one to Paterson's Historic Industrial Landmark District, and a second on the IA of the Passaic River Valley. She helped found the Roebling Metropolitan Area Chapter and served as its first president. Here participation included such diverse tasks as designing (with Graphic Artist Lynda Spozarsky) the poster for the Newark NJ Meeting as well as the layout of the Iron Master's Symposium newsletter. Her IA editorial contributions resulted in the 1974 publication of a joint SIA and Council for Northeast Archeology Journal on the subject of industrial archeology in Paterson, New Jersey, as well as many of ECI's I.A. site reports. She also co-authored (with Jo Ann Cotz) a study of Dublin, A Paterson NJ workers' housing district.
In May 1985, she became a part-time film critic for the New Jersey Herald in Newton, New Jersey. She won several awards for her writing, including a second place award in the critical writing category of the New Jersey Press Association's annual competition.
Mrs. Rutsch is survived by her husband, Edward S. Rutsch.