Mount Holyoke College
Class of 1963
In Memoriam
Kathleen Sweeney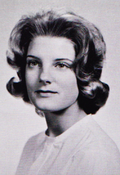 Kathleen Margaret Sweeney, died on November 23, 2007. Born February 24, 1942 in Galveston, Texas, she was a resident of Pasadena for over 30 years.
She was a graduate of Vero Beach (Fla.) High School and received her Bachelor's Degree in English from Mt. Holyoke College. She obtained her Master's degree in Business Administration from UCLA Anderson School of Management and embarked on a successful career in banking and financial consulting.
Kim was a member of Spinsters, Pasadena Junior Philharmonic and Junior League. She was preceded in death by her parents Robert S. Sweeney an d Veronica H. Sweeney and by her sister Sharon A. Sweeney.
She is survived by her husband J. Kendall Whiting, her stepson Adam Whiting and his wife Annabel Whiting. She is also survived by her brothers John Sweeney, Robert S. Sweeney Jr., Mark Sweeney, and her sister Maureen Norgaard and her husband Chris; her nephews Michael Norgaard, Robert S. Sweeney III and Stephen Sweeney and her niece Anne Norgaard.