Mount Holyoke College
Class of 1963
In Memoriam
Roberta Thomas (Worrick)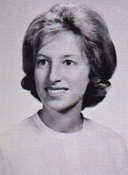 MHC Archives have this typed note:
ROBERTA WORRICK, 48, a former contract Emergency Food Program monitor for USAID Ethiopia died on August 7, 1989, in a plane crash while attempting to reach a refugee camp near the Ethiopian and Sudanese border.
Roberta, a professional in her own right, served in Ethiopia with her spouse as a Peace Corps volunteer from 1971-1973. During the intervening period, she accopmpanied her spouse on various A.I.D. assignments in Nigeria, Tanzania, Pakistan, Kenya, Liberia, Washington and Ethiopia. She travelled extensively throughout Ethiopia supervising emergency relief and refugee assistance. Her fluency in Amharic built bridges of compassion and understanding to the many Ethiopians and others with whom she came in contact. Under her pen name "Maria Thomas," she published two widely acclaimed and well received books about Africa, a novel -- "Antonia Saw the Oryx Fist," and a book or short stories -- "Come to Africa and Save Your Marriage." Her compassion, commitment and hope, often in the midst of overwhelming suffering and despair, served as an example for us all.
She is survived by a son Rafael D. Worrick of Washington, D.C., a brother Anthony Thomas, her mother Ada Thomas of Boca Raton, Florida, and Ann Worrick, the mother of her spouse, Thomas, who also died in the crash.
The Thomas and Roberta Worrick Memorial Fund [has been] established with Save the Children Federation.