Mount Holyoke College
Class of 1963
In Memoriam
Sarah (Sally) Smith (Nason) VIEW PROFILE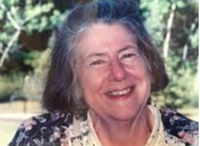 Published in Boston Herald on Jan. 1, 2015
NASON Sarah (Smith), of Everett, MA, born October 8, 1941, died unexpectedly on Saturday, December 27th. She was predeceased by her husband, Waldon C. Nason, Jr; her parents, John Lloyd Smith, Jr. and A. Jean Smith of Westwood, MA and Westport Island, ME; her brother, John Lloyd Smith III of Pennsylvania; and her sister, Jennifer Bakes of Norwalk, CT. Sarah is survived by her sister, Constance M. Ostis of Yarmouth, ME; her brother-in-law, Christos Bakes of Norwalk, CT; her sister-in-law, Karen Smith of Houston, Texas; her cousins, and her loving nieces and nephews. Sarah grew up in Westwood, MA, lived in Cambridge and Manhattan, and settled after marriage in Everett where she has lived for over 40 years. She was a dedicated employee in Northeastern University admissions department for 28 years. Sarah faced many challenges in the last decade, including visiting her aging mother in Maine and caring for her husband during his long period of ill health prior to their deaths. While she recently expressed being ready to think of herself and plan for her future, Sarah was reluctant to leave the neighborhood where she had a sense of belonging with her many caring neighbors and in a community where she was valued and "never felt lonely." Sarah's sudden death took her away from us way too soon, not only robbing her of the peaceful later years she so richly deserved, but also depriving all who cared for her of more time to enjoy her gracious and generous caring ways, her kindness, her thoughtfulness, and her contagious laughter. While she cherished her close friends, she had looked forward to more time and emotional energy to rekindle and enjoy relationships that have meant so much to her throughout her life. Anyone who knew Sarah . . . and apparently everyone within blocks of her home and in the entire city of Everett did . . . will miss her dearly for years to come.
Note from Carolyn Hornfeld:

I learned over Christmas that Sarah Smith had died. Sally (as we called her then) never actually graduated from MHC but spent sophomore year with us in Sycamores. She was a transfer student from UNH, but then had some health issues and left MHC after that one year. She never got a college degree though was smart and clever and funny. She worked in the Boston area, and I roomed with her for 3 years in Cambridge. As she got older she got a bit eccentric (ha! don't we all?) but was a true friend. She was crossing the street i Everett MA where she lived when was struck by a car (driver on drugs apparently) and killed. A tragic waste.
Click here to see Sarah (Sally)'s last Profile entry.